MHS Debuts Their First Winter Guard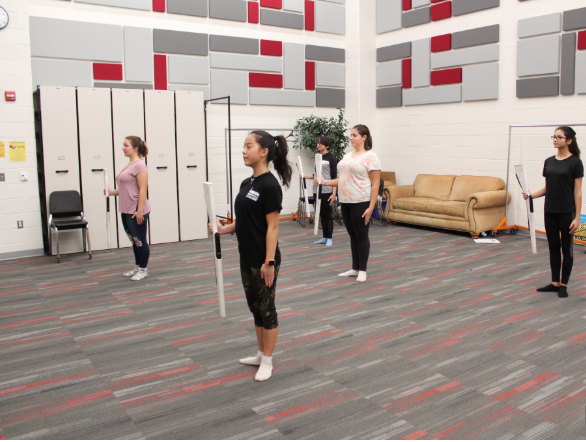 While the Madison Marching Dodgers ended their season back in November 2018, it seems that the color guard has yet to be done for this year. Madison High School is debuting their brand new winter guard program in 2019. The group will compete in late March and late April.
So what exactly is a winter guard? Essentially, it takes all the components of an outdoor color guard(marching band) and takes it indoors for the winter. In winter guard, members spin flag, rifle, saber, as well as dance. Although Madison High School's winter guard is entering the scene late, many winter guards start right as marching band season ends. As a matter of fact, many winter guards begin auditions during the marching band season. Not every winter guard is scholastic, the largest and most competitive winter guard circuit is WGI. WGI describes winter guard as a "sport of the arts" as it contains elements of both sports and arts. This circuit includes guards from all across the country as well as international guards such as Minerva CGT from Japan. World class is the highest class in any circuit and many world-class organizations are independent of high schools.
For those who are currently in the program, winter guard is a place where the balance between fun and hard work is constantly present. It is a place where a person can enter and be in awe of what others are doing but with the right headspace and amount of practice, that person can become what they once adored. Many of the members claim that color guard has helped them grow immensely in terms of both physically as well as mentality. Even though it is a tough activity, those in the activity find solace in each other during tough rehearsals and through this, friendships are made. Color guard is an activity where a person could find anything they wanted in an activity; physical and mental growth and unbreakable bonds with wonderful people.
Even though they rehearse with a strong appetite for improvement, the winter guard at Madison High School is not nearly as intense as a world-class organization. In fact, they encourage any and all people from grades 6-12 to join (even now) regardless of experience.
To see more of the Dodger color guard and their first winter season, you can follow @dodgercolorguard on Instagram.