Chaos at the Border — Everything You Need to Know About The Migrant Caravan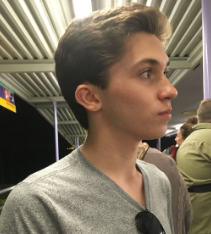 More stories from Michael Preston
Migrants run across the dirt covered floor, tear gas still stained in their eyes. Men throw rocks, provoking the border patrol. Mothers hold their children close; some grab stray children in trying to gain some sort of advantage when crossing. Anger, confusion, and ultimately, desperation, a chaotic mix of unregistered immigrants storm the US border on November 25th.
The Migrant Caravan, predominantly male, continues to wait for asylum on the border. The situation had gained national attention, picking up even more traction after Kim Hoon took an iconic photo of a scared, migrant family. The Caravan, based in Tijuana, Mexico, just touches the US border. There is an estimate of 1,000 children, 1,000 adult women, and 3,700 adult men within the group. Most migrants seek for a better life in America. They want jobs, higher paying ones, that they can sustain. Much like any other American citizen, most only seek to support themselves and/or their families
President Trump received backlash after his actions to tear gas those storming the border, and there is discussion on how ethical those choices were. Some claim that the border is just women and children looking for a better life, while others claim that there is a dangerous blend of criminals that are a threat to US citizens.
In reality, both are present, but not to the extent that the media plays out. Only 35% of women and children make up the Caravan, while criminals only make up 11%.
Despite the frantic media coverage, Obama had used tear gas at the border an average of 1.3 times a month during his second term. The Migrant Caravan is not the first of its kind, nor is it the first time the US used tear gas for such an occasion.
No one can blame a singular person for the humanitarian crisis. However, the situation can be attributed to an overwhelming migrant presence applying for asylum, a flawed immigration system, and a lack of communication. Only time can tell what's in store for the migrants.
Works Cited
Averbuch, Maya, and Kirk Semple. "With U.S. Soil Achingly Close, Decision Time for Caravan Migrants." The New York Times, The New York Times, 3 Dec. 2018, www.nytimes.com/2018/12/03/world/americas/migrant-caravans-tijuana.html.
"Cuomo: Trump Miscasts Migrants as Monsters – CNN Video." CNN, Cable News Network, 29 Nov. 2018, www.cnn.com/videos/politics/2018/11/29/chris-cuomo-closing-argument-trump-migrants-border-sot-cpt-vpx.cnn.
"Fact vs. Fiction: The Migrant Caravan." Fox News, FOX News Network, 2018, video.foxnews.com/v/5973073552001/#sp=show-clips.
Giaritelli, Anna. "DHS Chief Claims 600 Convicted Criminals Are Hiding in Migrant Caravans." Washington Examiner, 27 Nov. 2018, www.washingtonexaminer.com/news/dhs-kirstjen-nielsen-600-convicted-criminals-hiding-in-migrant-caravans.
Law, Tara. "The Story Behind Photo of Family Running From Tear Gas at Border." Time, Time, 27 Nov. 2018, time.com/5464560/caravan-mexico-border-iconic-photo/.
MacGuill, Dan. "FACT CHECK: Did the Obama Administration Use Tear Gas Once a Month at the Border?" Snopes.com, 2018, www.snopes.com/fact-check/obama-tear-gas-border-migrants/.
Sexton, John. "MSNBC: The Majority of People Who Make up the Migrant Caravan Are Men." Hot Air, 26 Nov. 2018, hotair.com/archives/2018/11/26/msnbc-yes-members-migrant-caravan-men/.
View Comments(1)