Madison Theater Closed for Financial Reasons, Not Personal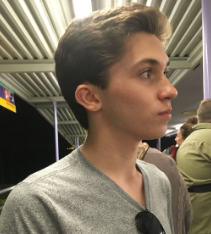 More stories from Michael Preston
After almost a century of showcasing films to the locals of Madison, Bow Tie Cinemas closed its doors permanently to the public. The shocking and unexpected close in May has caused many Madison residents sorrow, and for some, anger, for the theater had become a town icon over the years.
While the reason for the shutdown of Madison's beloved theater is never stated, the response from the community is much more clear-cut.
On July 9th of this past summer, residents of Madison started a petition to save the theater and place it in local hands. Since then, the petition had gained over 1,500 signatures, well exceeding the initial goal of 1,000. With the massive support across Madison, the petition gained enough momentum to be brought to Conley, the current mayor of Madison, and the Borough Council.
On the 10th of September, Madison Dodger Online (MDO) interviewed Sandy Kolakoski (SK), a member of the Downtown Development Council, who experienced the movement first hand.
MDO: The theater has been a part of Madison even before World War II, and is both historic and iconic. What does the Madison Theater mean to you?
KS: I do think it is a piece of history of the town, I think it represents the hometown spirit of Madison and it represents, to me, childhood and a sort of security living in a small town.
MDO: Not too many towns can say they have that. What do you think inspired people to start the petition?
KS: I think that people once they realized that the theater had been sold and that it wasn't going to be a theater anymore they recognized what it meant to them personally, how it made them feel, and the sadness of having an icon like that disappear from the town.
MDO: The petition has hundreds of signatures at this point. When, and how, did this petition gain momentum?
KS: I think that [it was] social media, which is a huge force for anything like this nowadays. The petition was started by someone in town, I actually think it was two individuals, but what happened was it was posted on facebook, and as soon as it was posted people started sharing it and it caught on like wildfire. I think the paper picked it up, and the Patch picked it up as well which is online now, and it snowballed from there.
MDO: No one in Madison saw the closing coming. What do you know about the reasoning behind the theater's closing?
KS: I do agree with you, that many people seemed very surprised about this closing. I will tell from my position on the DDC [Downtown Development Council] I was aware it had been for sale for well over a year, so I think that people, unfortunately, don't recognized things until it's too late… there had been a very large 'for sale' sign on it for over a year. I think what happened was finally, there was an article in the paper saying how the historic movie theater was closing, and it had been already sold to someone new, that's when all of a sudden it hit people and they made the connection that the building is selling and the theater is closing… I do know that the individual who owned the building had decided quite a long time ago that he wanted to sell it. He, to my understanding, is older and thought to himself 'I don't need to own this real estate anymore'. I do know that because of that he went to the people who are in there [Bow Tie Cinemas]; [Bow Tie Cinemas] had an interest in purchasing the theater, [but] I don't think they had an interest in purchasing the actual building. I do know that town officials did try to approach other theater companies and people who were interested in purchasing it, and then finally, you had a private firm or equity firm come in and purchase it. So what I think what happened was nobody realized all of that was going on because none of that is in the paper or publicized and that was all private and personal information, and it wasn't, as I said, until the article actually came out that the theater was closing that people suddenly realized what had happened. I do also know that the current owners, as far as I understand, did say to Bow Ties that they could stay there as a theater, but there was work that needs to get done on the building and part of it was that Bow Ties had to do some work on the theater and I think they felt they weren't going to stay there long term. They choose instead to evacuate, or step out of it, which is why it's empty. I don't think it's that the new owners pushed the theater out, it's just that the people running the theater said 'I don't want to put money in this and there are things that need to be done.
MDO: So it was more of a 'commitment' thing?
KS: Yes, exactly, they did not want to make that long term commitment, for whatever reasons, so they moved out. So, again, I don't think that the current owner is against the theater, I think that seemed to be in some of the articles I was reading or on social media. I don't think that was their intention. They were just looking at a building for sale… what's going to happen to it, I don't think they determined that yet.
MDO: Eventually they brought this issue to the Borough Council. Did the many people of Madison achieve their goal?
KS: Well I don't think they did, because the petition's goal was so the town could take over this building and turn it into an arts theater. That's a wonderful thought, but in reality, it's privately owned by someone right now, and you can't go to somebody who privately owns something and take it away from them and turn it into something else. It's like if somebody wanted to turn your house into a arts theater; they couldn't just say to you 'you need to sell me your house so we can turn it into an arts theater.' You would say 'no, this is my private property.
MDO: So this would almost be an invasion of privacy."
KS: It would be, and… it has historic significance to us, but it has never been registered as a historic building. There is a formal legal process you have to go through to designate something as a historic building… while people feel it's historic it does not have the protection of be designated historic.
MDO: Let's say the theater closed down for financial reasons. Do you think the community would pitch in to save it?
KS: That's a good question. I do think that people, initially, would contribute money to try to save it. I think the difficulty you have with business is long term; it would always still need money and… everyone's not going to keep financially supporting it. While it might be a short term fix, but inevitably when that money runs out it would be in the same position it would be with Bow Tie Cinemas.
MDO: Thank you so much for your time, Mrs. Kolakowski.
KS: You're welcome!
Unfortunately, the theater will never return back to its original state with Bow Ties opting out and no support financially. Hopefully it will be placed in good hands and will continue to remain as a piece of Madison for many years to come.

https://patch.com/new-jersey/madison/madison-residents-rally-bring-back-historic-movie-theater
https://www.ipetitions.com/petition/save-our-historic-movie-theater
Leave a Comment