Athletes and ACL's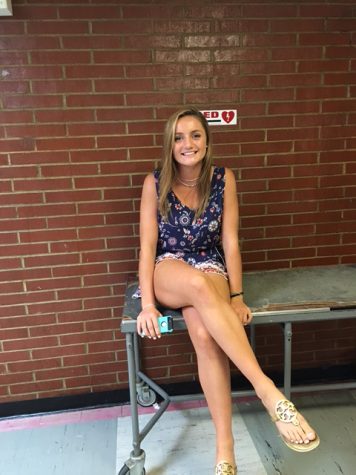 More stories from Catherine Crowley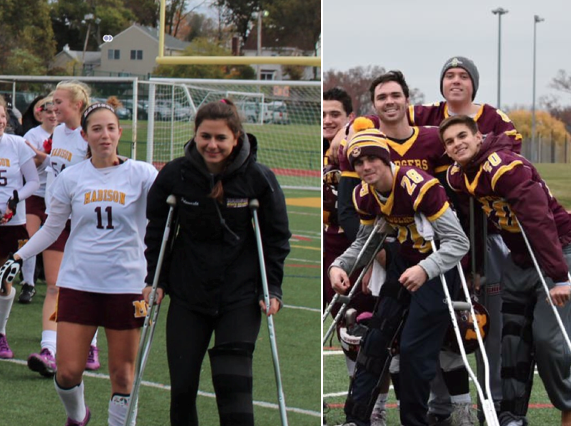 Over the course of just two weeks, three athletes suffered the same severe injury; a torn ACL. Matt Boyd and Matt O'Donnell, both seniors on the football team, tore their ACL's in the night football game against Hanover Park. Danielle Palawasta, a sophomore on the field hockey team, tore hers the same week in a drill during practice. From a painful surgery to an excruciatingly long recovery and an immense amount of time out of sports, Boyd, O'Donnell and Palawasta shared with us their personal stories about ACL tears.
What does an ACL tear really feel like?
On a cold October night, the football team was taking on their rival Hanover Park, when two senior players went down at different times in the game. "I caught the ball and was running up the field then I went to juke the defender and when I planted my right foot to cut in my foot stayed and my knee went in and that's when I felt a pop and went down", senior Matt O'Donnell shared, "When it first happened I didn't think I didn't think it was an ACL tear, but I did think it was something bad because I felt it pop. On a scale of 1-10 it was probably like a 2 because it didn't hurt, it just felt really weird". On the other hand, Matt Boyd explained, "I got hurt in a football game and the injury was non contact. At first i definitely thought i tore something cause the pain was so extreme i actually blacked out for like a minute, but like 10 minutes later it didn't really hurt so i was convinced it wasn't a serious injury".
During the same week in October, the field hockey team was training for their state tournament games when junior Danielle Palawasta suddenly fell to the ground. Danielle described the incident and shared,  "I was playing defense and was trying to get the ball from another girl but my foot planted and my knee snapped out. When I got hurt I didn't think at all that it was my ACL, I just thought I had pulled something really badly because I was able to walk afterwards. After I talked to Meg she told me it was most likely my ACL".
What thoughts does one with a torn ACL have?
Both being seniors, Boyd and O'Donnell were hit a little harder with the news of their serious injury.  "I was pretty upset because I knew I would never play football with the guys I've been playing with my whole life which was hard. Also, I might not be able to play baseball either, so that was also hard to take", O'Donnell explained. Boyd shared, "At first, my thoughts were negative after I got my MRI and it confirmed that it was torn. However, it only took about three days for me to stop being negative and accept the injury. I began to develop a positive outlook for the future regarding the injury".
As a captain of the JV field hockey team, Danielle had a difficult time grasping the idea of a torn ACL. "After I got hurt I went to urgent care at summit medical group. They took x rays and told me that it could possibly be torn or partially. However after I got my MRI back and found out I tore it I had a lot of negative thoughts for a while. The thoughts still come and go but I know eventually I'll be back to normal". Danielle was still a constant support to her team, going to every practice and game, bundled up on the sidelines on her crutches.
What is the recovery process like?
Matt O'Donnell gave insight on the road to recovery and shared, "The recovery process is a long process. I have to do at least six months of physical therapy a few days a week. At 4 months I'll be able to jog, and at 5 months I'll be able to do agility movements". Boyd adds, "The recovery process is very long and I will be rehabbing for 9 months".
Advice to other kids in your position…
Matt O'Donnell gives some positive advice by saying, "My advice to other kids would be the process is long and sucks a lot but you can't put your head down; you have to work hard and do everything that the doctors and physical therapists say because they are trying to get you back fast, too. No pain no gain". Boyd explains, "I can benefit from this because it will teach me to overcome challenges in life and make the most out of a bad situation. The advice I give to other kids in my position would be to stay positive because once the surgery is done the knee only gets better from there".
Madison Dodger Online wishes Matt, Matt and Danielle the best of luck in their road to recovery!
View Comments(1)