Girls Tennis Team Making Headlines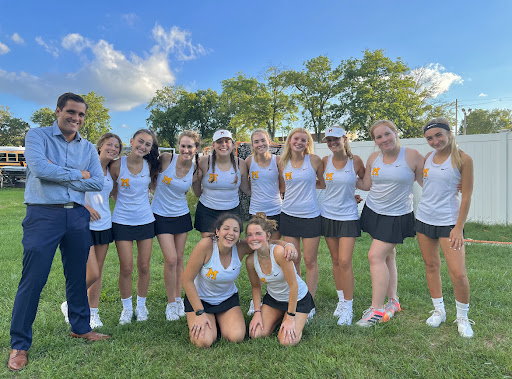 After countless weeks of summer training, the Madison girls' tennis team begins its 2022 season with a strong start.  With a series of winning streaks, both the girls JV and varsity teams make themselves known to their competition as the team to watch out for.
So far, the girls tennis team played Hanover Park, Parsippany Hills (2x), Mobeard, Mountain Lakes, Villa Walsh, and Morris Plains. The JV team begins their season with an undefeated streak, winning six matches and tying one. Roll Dodgers!
The Varsity team has already come out with 4 wins, with senior co-captain Caroline Tracy remaining undefeated in all of her matches. It is only Tracy's second year on the tennis team, and she has already proven to be a top competitor.  She has progressed from playing first doubles her junior year to now being the 3rd singles player behind senior, Marina Gobbi, and sophomore, Kaden Peterson.
These wins are a reflection of the hard work put into the Dodger's training over the past few months and their coach's commitment to the team's improvement. Head Coach Anton Carrera and JV Coach Charles Diamante guide their players with new skills and techniques to unlock their full capabilities in the sport. As Ava Fasolas, a member of the varsity tennis team says, "the team has gained focus and drive as a result of a new and engaged coach. His leadership and guidance has proven positive in making this team cohesive and sharp. Our ambition as a team has been evident on the court.  We look forward to a great and successful rest of the season!"