Girls Soccer Kicks Off Their 2022 Season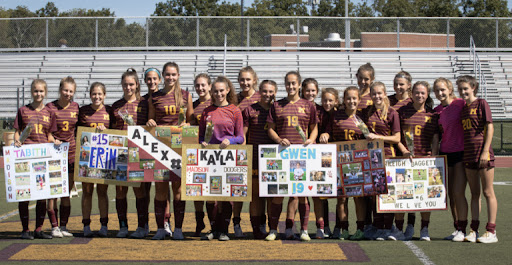 Coming off a winning season in which they went to the N2G2 Sectional Finals, many have high hopes for Dodger Girls Soccer this season. The girls have easily exceeded these expectations, with an astounding opening record of 5-0. What could this success be attributed to: a new head coach, shiny new equipment, or the longing to take the team further than last year? Sophomore Gabby Mariani, a second-year varsity player, says that a "majority of [the] starters are veteran players, so it did not take long to gel together as a team."
Despite much confusion and drama at the beginning of the season regarding coaching and team size, the JV and Freshman teams have hit their stride. JV has a 3-1-1 record and the Freshman are 1-1-2. With only nine uninjured players, the freshmen are barely able to field a team, and yet, they stay strong. 
This past Saturday, September 24th, was senior day for the girls. They played Villa Walsh, JV at 9 am and varsity at 11, with enthusiastic support in the stands. JV kicked the day off strong with a 4-0 win, with a goal from junior Avery Hines, two from junior Ella Tucker, and an own goal from Villa Walsh. The varsity girls followed this game up with a 3-0 win, with goals from seniors Claire Sheeleigh and Erin Kleiven, and freshman Anna Gominiak. After the game the Dodgers acknowledged their seven seniors, Rileigh Bagget, Gwen Eilender, Kayla Eisenger, Erin Kleiven, Tabitha Macagnano, Alex Reigle, and Claire Sheeleigh, celebrating their accomplishments and commitments to the girls soccer program.
The Dodgers will have many more chances to extend their winning streak this year with a busy schedule carrying them all the way to late October. Good luck girls!