Senior Spotlight: Football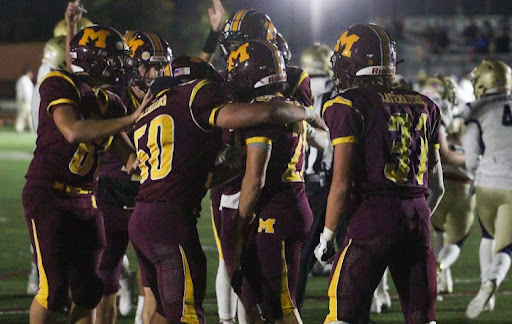 Ending their season with two strong wins, the Dodgers finished with a 6-2 record.
Their second-to-last win of the regular season came against Jefferson. During that 21-8 win, senior Anthony Contessa scored two touchdowns and senior Dante Izzo scored once on a 74-yard interception. Senior Brayton Boyer kicked and made all three extra points.
After a convincing win against Jefferson, the team looked to the next matchup, the Morris Catholic Crusaders. Last year, the Dodgers suffered a double-overtime loss to the Crusaders so they were looking for revenge, and they got it with a convincing 54-8 win. Before the game started, senior Aniello Vacchiano was recognized for his commitment to his team, school, and the community. He received the Steve Digregorio Young Man of the Year award for the Dodgers. The first points of the game came from a defensive safety.
After the first touchdown, senior Cade LaFerriere successfully completed a two-point conversion. In total, seven touchdowns were scored that night. Three of the seven came thanks to senior Jayson Candelario. Sophomore Chris Carfano, and seniors Robert Ferris, Brayton Boyer, and Anthony Contessa each added an additional touchdown to the board.
Boyer kicked four field goals and junior Ethan Allocca kicked one. This game also served as senior night for the Dodgers where sixteen of the players were recognized for their hard work and dedication to the program.
The Dodgers start their playoff run on Friday 10/28. The team is ranked third in their bracket and look to play the number six seed, Jefferson. They will face off at home under the lights at 7 PM.
When asked about the team next year, Contessa, Ferris, Vacchiano, and Boyer all said the same thing: watch out for Jack McGuire, Greg Randall, and James Amorosi. Not only have they been good leaders on the team, but they also make big plays. As they become seniors next year, they will be looked at to continue making these plays and being good leaders.
When asked what he was going to miss the most about the team, Contessa said, "The bond I have created with all the guys on and off the field and being able to go out and play with them on Fridays and Saturdays." This same sentiment was shared with the others. The bonds and brotherhood that Dodger football has created is unlike anything else.
Although the team went 6-2 this season, it did not come without its fair share of challenges, both as a team and on a personal level. Vacchiano recounts the biggest challenge as being "the school's idea that our football team will never be good again, and that we would just suck." That did not stop him or his team, going on to say, "It just made everyone, including myself, work harder and put Madison Football back on top." Boyer described his most meaningful challenge as "learning from our mistakes. You can't let one bad play take over the whole game. You just have to move on and keep playing with confidence."
Not all challenges were on a team level. Ferris recounts his biggest challenge as remembers his time on the team as a sophomore only on special teams. It made him realize that he "needed to work 10 times harder."
The Dodgers want to thank seniors Brayton Boyer, Jayson Candelario, Anthony Contessa, George Csatlos, Joey DeMarzo, Robert Ferris, Danny Geier, Dante Izzo, Joaquin Izzo, Cade LaFerriere, Jay Maimone, Ronan McGinn, Skyler Pastro, Michael Schell, Scotty Spelker, and Aniello Vacchiano for their hard work and dedication to the program over the past four years!