Strong Start for the Madison Field Hockey Team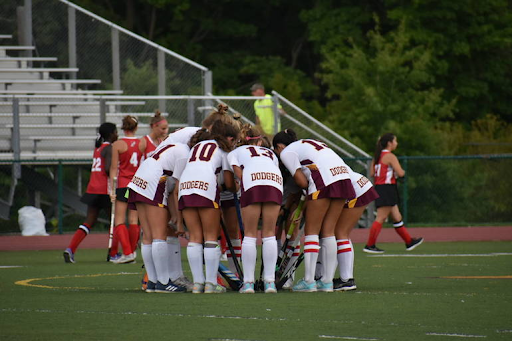 Six games, six wins. The girls of Madison field hockey have dominated against all of their opponents with a staggering total of 23 goals this season up to this point. As important as scoring goals is, defense is crucial too.
This season, Madison field hockey has let in a mere four goals and racked up 15 goalie saves. With these many wins comes high placements in standings. Madison is currently in first place in the Liberty Division and second in its conference.
This is all impressive considering that four new coaches joined the team this year. The coaches joining the Dodgers weren't announced until two weeks before preseason, but this didn't set the team back. From day one the team has been working on its stick skills and endurance to prepare for the season. The wins have not come easy, with two-hour practices every day, the girls have definitely put in the work to earn their spot on the leaderboard.
Between practice and training, there is also a huge emphasis on team bonding through team dinners to work together seamlessly on and off the field.
The seventh game of the season is Wednesday, September 28 at Pequannock. Last season, Madison defeated them twice: once at home and once away.
Madison field hockey started out strong, and the hope is that the team's momentum will bring eight more wins and a championship. Prospectively, winning its conference this year is not out of the question as the girls continue to put in the work.