Four Dodgers, Four Signatures, Four More Years
On Wednesday, November 9th, on Division 1 Signing Day, Madison High School celebrated a victorious day; four of their senior athletes signed their letters of intent. Gwen Eilender, Rileigh Baggett, Alex Reigle, and Tyler Shannon all signed to continue their athletic career in college.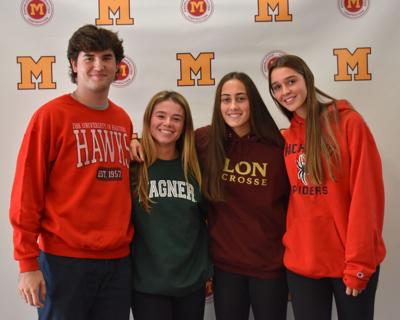 Eilender, to Elon University, is a standout lacrosse player. As an attacking midfielder, Eilender runs the offense for the Madison Dodgers. Finishing with 28 goals and 23 assists her sophomore year, Eilender topped that in her junior year, with 39 goals and 56 assists, leading the team in points with a total of 146 from the two years combined. Eilender was awarded with All Conference First Team for the 2022 season.

On the opposite side of the field is Rileigh Baggett. A defender for Madison, Baggett came in top for ground balls and forced turnovers. Her sophomore and junior year she totaled 59 ground balls and 46 forced turnovers. Her junior year, Baggett was nominated for All State Group 1 First Team and All Conference First Team. Baggett was recruited and committed to play at Wagner College as a midfielder.

Switching to soccer, the most awarded player on the high school girls soccer team has been centerback Alex Reigle. After joining the team sophomore year, Reigle has been a crucial part of the success of the team. Her sophomore season, Reigle was awarded with All Conference First Team, All County, and Top 22. Following that was her junior season where she received All Conference First Team and All County First Team. She finished strongest her senior year with All Conference First Team, All County First Team, and an All State nomination. Reigle will be playing for the University of Richmond in the fall. 

Katherine Finnegan & Jenna Powers

Lastly is the dominant force on the Dodgers baseball team. Tyler Shannon signed his National Letter of Intent with the University of Hartford. After losing his freshman season due to Covid, Shannon has been starting at first base since his sophomore year, and was awarded with All Conference First Team and was a Divisional All Star his junior year. The first baseman ended his past two seasons with 20 runs, and led the team in hits with 42, runs batted in with 30, and the highest batting average of .304. 

Eilender, Baggett, and Shannon all lost their freshman season due to Covid, but even without that, they still managed to have very successful seasons, with one more to go this spring. 

These four Dodgers have had accomplished years at Madison and are looking forward to competing at the next level.