Girls Basketball Season Preview 2021-22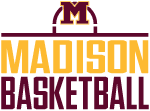 The Madison Girls Basketball season is almost underway with their first game at 4:30pm on December 20 against Mt. Olive right here in Madison.
The roster for this year's season includes: seniors Kayla Davis and Vivian Summerlin, juniors Gwen Tuhy, Alex Reigle, Erin Kleiven, Mae Christos, Rileigh Baggett, and Gwen Eilender, sophomores Beau Braverman, Ashley Driscoll, and Maggie Kim, and freshmen Charlotte Tuhy and Gabby Mariani. 
Back in 2019, the Dodgers won the Independent Division and were bumped up to play in the more competitive Liberty Division, where they will be playing this season against Hanover Park, Morris Catholic, St. Elizabeth, Pequannock, and Morristown Beard.
Because of Covid, there were no county or state tournaments last year, and the Dodgers had a shortened season, but that didn't stop them from being a dominant force on the court. Led by Head Coach Lisa DiTuro, the Dodgers finished their season with a record of 10-5. They also won the Covid Challenge Round Robin End of Year Tournament.
Coach DiTuro is excited to start the new season with her new team: "We graduated a lot of impactful players last year, but we have a strong group of athletes who are ready and excited to make an impact this season."
Davis and Summerlin have improved their game a great deal since their freshmen year. Eilender and Baggett bring intensity and energy to the court with their defense. Kleiven and Tuhy as well as Braverman are strong all-around players. Kim and Driscoll are extremely hard workers who aim to push their teammates and themselves. Two very exciting additions to this team, freshmen Mariani and Tuhy, are both well-seasoned players. Mariani plays with maturity beyond her years, and Tuhy is such a versatile, hard-to-defend player. And while juniors Christos and Reigle were recovering from injuries at the start of the season, they are back and sure to add power and intensity to the court. Each player has immense talent and athletic skill and is sure to contribute to the team's future success.
"But the most exciting thing about this group," says Coach DiTuro, "is their attitude and work ethic. They are fun to coach and are going to do some really exciting things this year!" Based on past performances and their promising team this season, this Dodger basketball team is sure to not disappoint.