New Mexico Makes Public Universities Tuition-Free for All Residents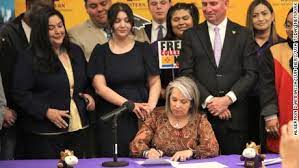 What if college was tuition-free? It's a question that the vast majority of Americans have likely pondered at some point. Some believe that it would bring great benefits to society, offering upward mobility to those who otherwise would not have the opportunity to attend a post-high school institution. Others take a more pessimistic view, believing that taxes levied by the government to sponsor such a program could do more harm than good. People across the country have attempted to make free college a reality for a long time. Some states have already introduced programs that offer free college to students who satisfy one or more conditions. Now, one state is doing it for everybody.
Last month, the New Mexico state government passed Senate Bill 140, a law that will make all public colleges and universities 100% tuition free for all residents. It will not extend to out-of-state students. It will, however, benefit any person who has graduated from a New Mexico high school or lived in the state for at least one year, including prisoners and undocumented immigrants. So, how will this affect New Mexicans who may benefit from the program? According to Naviance, New Mexico's three largest public colleges by enrollment are the University of New Mexico, with 18,621 total, 16,014 in-state, and 2,607 out of state students, New Mexico State University, with 11,687, 8,181, and 3,506, and Eastern New Mexico University, with 4,700, 2,585, and 2,115. Those same colleges have in-state tuitions of $6,109 (UNM), $5,515 (NM State), and $3,842 (ENMU) per year, with out-of-state numbers at $21,063, $20,599, and $5,763 respectively. After the new state law, in-state students will save a total of $189,369,431 per year. Out-of-state students, on the other hand, will spend a total of $139,320,080 on tuition at these three colleges every year. This data isn't entirely accurate as colleges offer scholarships based on merit and financial aid based on need, but it does give a somewhat accurate picture of how much students had to pay prior to the new programs.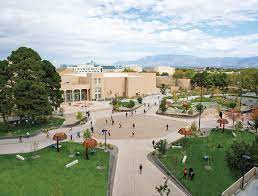 Following up on earlier financial aid programs, New Mexico only needed to allocate $75 million to provide free college, rather than the $139 million figure discussed earlier. Of that $75 million, $63 million comes from federally provided pandemic relief funds. Depending on the success of the program, the state will have to make a decision in the coming years on whether it makes financial sense to continue to support the measure. After all of the available pandemic relief funds have been exhausted, New Mexico will need to come up with an additional $63 million in order to have a shot at continuing the program. Most of this money will likely come in the form of spending cuts to other areas, corresponding with the state's existing budget of $8.5 billion. Alternatively, New Mexico could opt to levy additional taxes to wealthier brackets.
New Mexico is not the first state to move towards more affordable higher education. In 2019, Washington State passed the Workforce Education Investment Act which established a program–funded by select large corporations–that aims at covering the majority of public college tuition for lower income students. Some states like Massachusetts and Rhode Island have begun to explore initiatives that provide free community college to in-state residents. Some more states have made community college free already.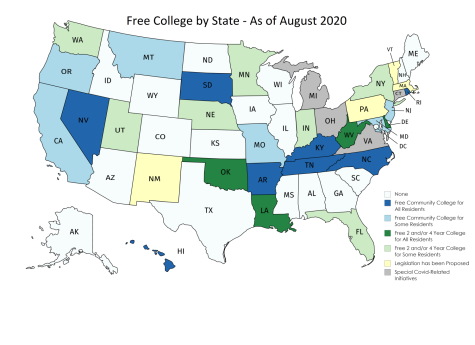 The New Mexico bill is not alone in the sense that it aims to make public education more affordable, but it is by far the most ambitious piece of legislation to ever have passed through a state government on the topic. No other state has managed to pass a bill that makes state school free for each and every resident, regardless of academic, legal, or economic status. The program could be a massive flop given the mounting cost of education. Alternatively, it could be a monumental first step in ensuring free higher education for all those who wish to enrich their future without putting their immediate financial security at risk. Assuming the bill is any kind of success, it will more than likely set the tone for other states to implement similar or identical policies. The future remains uncertain, but for now, at least, it is vital to monitor the situation in New Mexico, as it could have unprecedented implications on the future of education altogether.

Gianna Izzo & Sam Klepper