Warm weather in New Jersey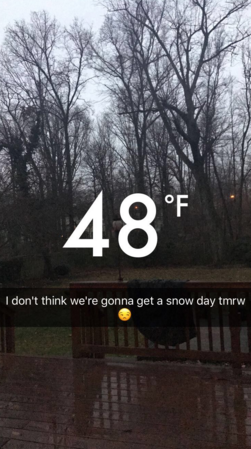 The current state of New Jersey weather makes you think twice about what you want to wear on an average afternoon. With six more weeks of winter, there has barely been snow, making it feel as if it's a warm spring day. 

The temperatures at the start of the week will reach its high of 56F and then by Friday, should go down to 41F, with Wednesday being the coldest at 38F. With the forecast barely showing the sun this week, the average humidity feeling is in the mid 40s. The warmer weather means that even if there is precipitation, it would be rain instead of snow.

Nathan Gaurin

According to the groundhog meteorologist, we have a longer winter coming. "Punxsutawney Phil rose from his burrow and saw his shadow Thursday morning in Punxsutawney, Pennsylvania, in front of a large Groundhog Day crowd as the nation anxiously waited to see what he would predict." According to Stormfax Weather Alamac, Phil has been right 39% of the time.  His track record is evidence that trying to predict the future weather is hard. Predicting the right arrival of springtime for the countries climate is not easy. Despite "six more weeks of winter," New Jersey weather has told a different story. 

The head of the private forecasting company NY NJ PA Weather that is based in Monmouth County said people in northern New Jersey may need to keep a hat on today or tomorrow. While those in the state's southern counties may want to forget the coat and bring on the sunglasses. 

Looking ahead, there is said to be mostly a sunny skies on Friday in New Jersey, the temperatures will be in the forties. But this Saturday, it's expected to be a cloudy day with light snow showers. Unexpectedly, these wild weather changes will make it seem as if it was summer on a winter day.