College Board Controversy
The non-profit company College Board is synonymous with standardized testing as the company monopolized high school testing by owning the (P)SAT, ACT, and the Advanced Placement (AP) Program. 
As of late, the fate of College Board has become increasingly unclear with the pandemic. In the early stages of quarantine, College Board was faced with the dilemma of how to mass test students from home. 
Their answer was to modify the exams, making them shorter, allowing open-notes testing, and having students ditch paper tests in favor of computers. 
While standardized testing on the computer is not new, College Board ran into several technical issues that got them into trouble.
Namely, around 1% of students were unable to submit their exams and would have to retake the same exam. As a result, a class action lawsuit was filed against College Board in federal court. It required College Board to grade and release the exams back to the students, rather than have them retake it a month later. It further stipulated that College Board was also required to issue out hundreds of millions of dollars in monetary relief.
College Board was not the only company sued, despite owning the AP program, the tests are administered by the Educational Testing Service, who was also named as a defendant. 
After the initial complaints, College Board released a statement that for the second week of exams, students would be allowed to email the company when they had trouble submitting. However, that was not made available to students who had issues in the first week of testing, as specified by the Washington Post.
While the Educational Testing Service did not put out a statement, according to the Washington Post, College Board was adamant that the students were responsible for the technological errors.  

However, according to FairTest interim director Bob Schaeffer "The College Board was warned about many potential access, technology and security problems by FairTest and other groups that had documented crashes when other computerized tests were introduced. Nevertheless, the board rushed 'untested' AP computerized exams into the marketplace in order to preserve its largest revenue-generating program when they could no longer administer in-school tests."
College Board is a non profit organization that charges students to take the exam. In the first week of the two week testing window in 2020, 2.186 million AP exams were taken, according to the Washington Post. Of that, roughly 1% had difficulties submitting, but College Board never released the exact number of afflicted students.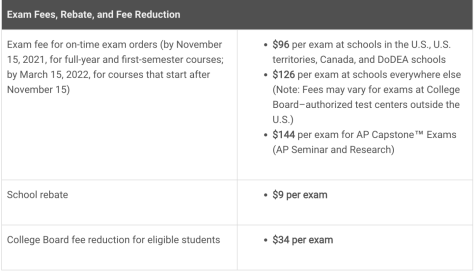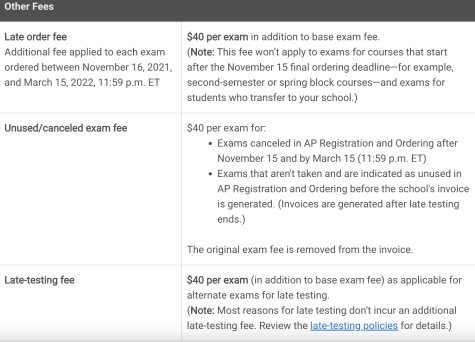 Above, you can see a list of all the fees and fines related to taking one AP exam. 
According to Susan Paterno in the Forbes article "Dropping SAT Won't Diminish College Board Clout,", the revenue of College Board ($1.1 billion in 2018) "is reinvested into fee waivers and in programs that expand educational opportunities for all students." The company does provide fee waivers to poor students in high-poverty U. S. schools, but it amounted to $129 million in 2018, which is only about 10 percent of its revenue.
The nonprofit organization does not pay taxes, yet as specified by the aforementioned article, the CEO David Coleman's total compensation was $1.8 million and President Jeremy Singer's package was more than $1 million in 2018.