Baldwin Behind Bars?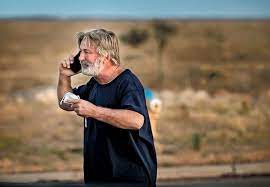 On January 19th 2023, the Santa Fe District Attorney's office announced that they would be pressing charges against Alec Baldwin and Hannah Gutierrez-Reed for the accidental shooting of Halyna Hutchins on the set of Baldwin's movie, Rust. In October of 2021, a fatal accident occurred on the set of the movie. A six shooter revolver which was supposed to be loaded with blanks was handed to Baldwin during filming, however, when Baldwin fired the gun, a live round struck cinematographer Halyna Hutchins in the stomach, passed through, and hit director Joel Souza in the arm. Hutchins was airlifted to a hospital in Albuquerque where she was pronounced dead. Souza luckily survived his injuries. In the wake of this tragedy, many are asking how a mistake as obvious as loading live rounds into a gun on a movie set could go unnoticed, and who is responsible.

While it may seem like a freak accident, there were many early warning signs that went unnoticed or were flat out ignored. The filming of the movie was to take 21 days and would include a daily safety briefing. However, safety briefings were rarely held and the movie's armorer, Hannah Gutierrez-Read, had never been an on set armorer before. To make matters worse, it was reported that Alec Baldwin often skipped mandatory firearms training and safety training. Throughout filming, he only received 30 minutes of abbreviated training. The day before the fatal shooting, most of the camera crew quit, citing safety and salary concerns. After the deadly shooting, anonymous on set personnel told Fox news that "gun handling appeared alarmingly 'green,' 'immature' and 'lackadaisical.'" Months after the shooting Baldwin conducted an interview with ABC in which he denied any responsibility in the incident and claimed that the gun had fired without him pulling the trigger, however an FBI investigation revealed that this was impossible.

Brayton Boyer

In a press conference on January 19th, Santa Fe DA Mary Carmack-Altwies announced that Balwin and Gutierrez-Reed would each be charged with two counts of involuntary manslaughter, Carmack-Altwies was also stated as saying, "On my watch, no one is above the law, and everyone deserves justice." Likewise, special prosecutor Andrea Reeb was quoted as saying, "We're trying to definitely make it clear that everybody's equal under the law, including A-list actors like Alec Baldwin." These charges carry a sentence of 18 months to 5 years. On February 1st, Baldwin and Gutierrez-reed were both formally charged and are now awaiting trial.