Madison 2019 Mayoral and Council Election Results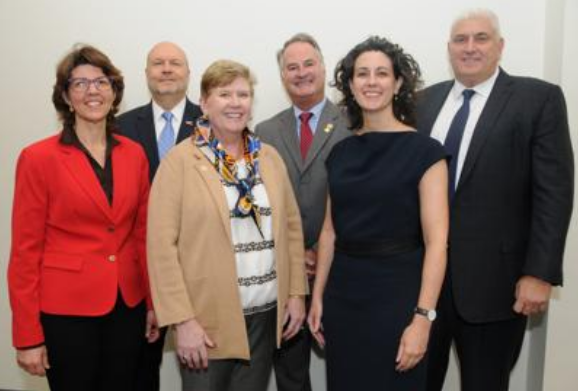 On November 5, the borough of Madison concluded their 2019 town council and mayoral polls. Although the results have not yet been confirmed by the election clerk, it appears that the democratic candidates will sweep both elections.
The results are as follows (leading candidates are bolded):
Mayoral Election:
Democrat Robert Conley (2,594 or 60.66 percent of the total vote)
Republican Robert G. Catalanello (1,682 or 39.34 percent of the total vote)
Council Election:
Democrat Maureen Byrne (2,317 or 27.73 percent of the total vote)
Democrat Rachel F. Ehrlich (2,245 or 26.87 percent of the total vote)
Republican Patrick Rowe (1,935 or 23.16 percent of the total vote)
Republican Kathy Daily (1,858 or 22.24 percent of the total vote)
Garnering over 60% of the vote, Conley has devoted his term to "keeping Madison a great place to live", focusing on the "quality of everyday life [and] fiscal responsibility", and "bringing a leadership style that builds bridges, finds common ground and invites everyone to the table". Compared to Catalanello, who "views his mission as being the advocate for the taxpayer", Conley has been willing to sacrifice higher local taxes in order to maintain and improve Madison's vibrant downtown. This will be Conley's third consecutive four-year term serving Madison as mayor.
Conley's campaign partners, Maureen Byrne and Rachel F. Ehrlich, also emerged on top of the polls as council representatives. This will be Byrne's second term on town council, while it will be Ehrlich's first. Both representatives have similar campaign goals as Conley: Ehrlich has stated that her campaign goal is to "focus on health and safety, a vibrant downtown, a verdant and sustainable Madison, and shared opportunity for all, including the opportunity to participate in the discussion of the future of Madison". Similarly, Byrne has stated that her goal is "to continue advocating for all of Madison, without labeling or compromise". Over the next four years, these members will work with Conley to achieve these goals.
While the democratic council members just edged out the republicans in the polls, the republicans centered their campaign around the lowering of taxes. Patrick Rowe, who has previously served on the council, "demonstrated himself to be a fearless taxpayers' advocate when crunching the all too important annual budgets", and assured voters that "every line item will be scrutinized to look for savings". Similarly, Kathy is committed to "serving people in need". These republican candidates accumulated roughly 45% of the votes for council.
We at Madison Dodger Online wish all participants in the elections the best of luck in their terms and future endeavors for Madison.