Volunteering and its Benefits with Global Leadership Adventures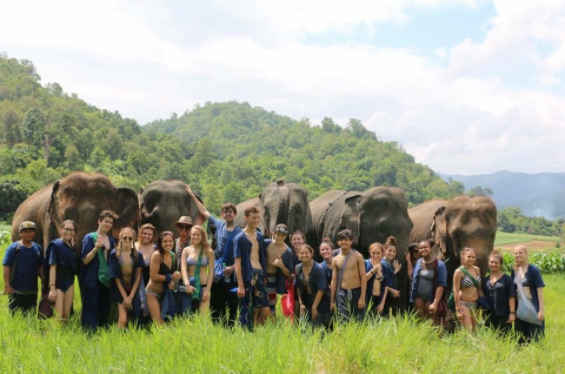 After spending a few weeks volunteering in Thailand with Global Leadership Adventures, I had never felt so enriched, blessed, and joyful. A volunteer program created for teens who have a longing to travel and experience new culture while either its volunteering or working on their language or art skills.
Wanting to know more about GLA, I reached out to Aaron Nichols, an enrollment advisor. Aaron is a resource for students interested in enrolling for a program and gets to know their passions and interests and why they are interested in joining GLA for a program. I asked Aaron what GLA does for teens and I received an answer that explained my experience with them perfectly,
"GLA gives experiences to teens to explore new passions, learn more about themselves, learn the importance of service-learning, and form life-long friendships not only with the other students in their cohort but also with the community they are impacting. Students leave our programs with a greater appreciation of culture (by sharing through means of cultural exchange) and also with a more open heart and mind. They learn that no impact is small and are empowered to be the change that the world needs."
Aaron and others who work at GLA understand the feeling received from volunteering because they have volunteered themselves,
"Service work brings together good people who have a common mindset and a love for life. Surrounding myself with good people and work that I know has an impact helps me to grow each and every day to push me to be the best version of myself. Service also brings a smile to my face and also allows me to form a network of connections between those I am serving that can last a lifetime."
It has many benefits, "Volunteering teaches responsibility, dedication, kindness, and also builds character. Volunteering is something that is bigger than ourselves. It is a very humbling experience as well. Putting in many hours to leave a larger impact on a community or organization teaches teens that there is a greater need for the world than the communities that they normally stay in. They realize the effects of teamwork and that anything is possible when all hands are on board."
Something that is so special to GLA is that it is more than just volunteering to look good for resumes, applications, etc.  It offers more,
"We never send students to a location to do volunteer work just because. We work very closely with our partner organizations in the communities that we impact to speak directly what the community needs from us. The volunteering is more than showing up and working. It is a transformative experience in 360 degrees. We learn the why what we do is important and how our efforts are leaving an impact. We also have the opportunity to engage within a community; stepping outside our comfort zone to stretch us to be better global citizens."
The passion with which Aaron answered each question really showed how much he loved his job at GLA and how much GLA cares about its students and their experiences on each program. "Each program has a purpose". Over the volunteering process it sparks something in the students, "appreciation for our world".
Although volunteering has its benefits, "Some students can get frustrated because they are not seeing immediate results from their efforts. It is important to remember that it is a process. It is step by step, focusing on the larger picture. It is going home to share with your circle what you have learned and gained from the experience. And yes, culture shock has happened to me. After I graduated from University I moved to Spain. I was not used to the customs of the food and could not speak the language. I felt very isolated and alone. But through this experience, it has made me who I am today. Expanding your comfort zone and putting yourself in uncomfortable situations is where you learn the most. Keeping a positive attitude and the step-by-step mentality is key. Learn by watching and doing. Don't overstep our boundaries in new communities. Ask questions and always step into new situations with a open mind and a smile on your face"
I could not say enough positive things about GLA. It gives students experience and allows them to explore a new culture while learning new things about themselves. It creates lifelong relationships and offers inspiration.