Top 25 Songs of 2017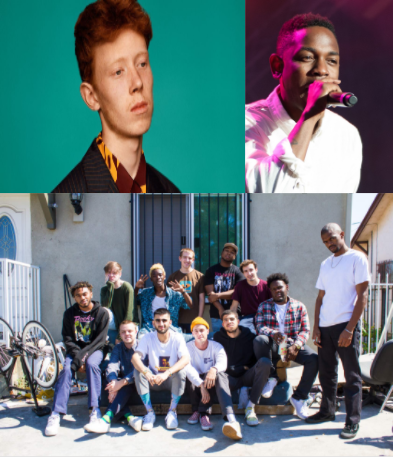 With one of the most controversial years in recent memory, one of the biggest silver linings for 2017 was its wide array of great music that came out of it. Here is MDO's list of the Top 25 Songs of 2017:
Playboi Carti – Magnolia
In a year muddled by loads of mumble rap that I, quite frankly, don't quite understand the appeal of, it would be pretty easy to write off Playboi Carti as just more of the same. However, I am glad I gave him a real chance because while on surface level he's just another mumble rapper, a deeper glance yields one of the most interesting flows, styles, and youthful energy of anyone coming up in the scene right now. Top it off with some, off-the-walls fantastic production from Pi'erre Bourne who gives the song a life of its own with its unique beat and you have one of the most interesting rap singles of the year from an artist I can't wait to hear more from.
Thundercat – Friend Zone
Let me first clarify that the friend zone is a stupid concept created by lonely neckbeards who want to pretend they're heroes and who follow the "nice guys finish last" ideal that, if 2017 has taught us anything, has no place in this world however. But, Thundercat discussing this issue is simply hilarious and I believe he's poking fun at the concept with constant references to his protagonist's love of Mortal Kombat, Diablo, and tacos that he believes are keeping his love interest away. It's extremely entertaining and contains production and music that are even better than its lyrics, with signature insane Thundercat bass and a smooth groove that makes dancing and sympathizing a bit with Thundercat's childish plight simply irresistible.
Paramore – Hard Times
Yeah, I didn't see this one coming either. After two of the dullest albums I've ever heard, Paramore seem to openly acknowledge their studio's branding of them and flip the bird to them, by making one of the most unique pop-rock songs I've heard in ages. With an untraditional melody, fantastic mixing, and utterly abandoning the tacky positive message and rather putting lyrics of hopelessness (declaring "and I'm gonna hit rock bottom") in the chorus over the corporate sunny hook. I hope Hayley Williams continues to shine and create music that she wants like this, because for the first time in a decade Paramore showed themselves as a band that can really make an earworm.
Animal Collective – Kinda Bonkers
Hey 2009 Animal Collective where've you been? Dropping an EP where every single this year where every single song is better than anything on their past 2 projects and performing an incredible Sung Tongs concert, I really hope Panda Bear, Avey Tare, Geologist (and hopefully Deakin again) are back to finding their groove. This song does just that, with a wild, thumping groove, complete with bongos and tribal choruses over one of the weirdest grooves I've heard from the group in many years. It truly is 'kinda bonkers' and I can't get enough of it.
Perfume Genius – Slip Away
While No Shape didn't draw me in throughout its entirety, that doesn't take away from "Slip Away," an infectious, fabulously produced single from Perfume Genius. Oozing originality with every note, Mike Hadreas's voice dominates the piece, taking command of the music and drawing the listener in. It's extremely catchy while still retaining loads of originality in an anthem about breaking free and being one's own self, a very fitting message for a song where Hadreas is very much "his own."
alt-J – 3WW
Another fantastic lead single from an uneven album! In a sense it angers me that 3WW is as good as it is, because it truly made me think alt-J had finally created a project that was truly different and great. Alas, that was not the case, but 3WW achieves a sound that I have rarely heard with its soft-spoken vocals, rhythmic drums, and encompassing synth waves. It is atmospheric and slow-paced, every note deliberate, yet expertly crafted, with perfect mixing that floats in the listener's ears and transports them to another world. Simple and nuanced, 3WW exists in itself and I sincerely hope alt-J eventually create a full-length that captures its power and grace.
Rina Sawayama – Ordinary Superstar
I'm here to tell you that Rina Sawayama is the breakout artist of the year and the person everyone needs to be paying the most attention to for a fantastic debut. With one of the best EPs I've heard in years, with every song being ridiculously melodic while also being smart, Sawayama has showed she's already a master of creating great pop. "Ordinary Superstar," the EP's opener, is no exception with its lush production, perfect pop hook, clever lyrics, all accentuated by Rina's perfect voice. It's such a great project and I'm sure it's the first of many great things from Ms. Sawayama to come.
SZA – The Weekend
It sucks to be the side chick (I assume). CTRL is SZA's first great album and part of it is because it's an album of self-discovery and self-love, through an extremely personal narrative. "The Weekend" highlights SZA's initial plight and lack of self-respect through this soft ballad about only satisfying her lover for the weekend before passing him back to his real love, leaving SZA feeling empty and lesser. While this changes throughout the album, "The Weekend" highlights a struggle many go through: validating one's self on a significant other. It's a familiar feeling and a tragic song, sung wistfully over a rhythmic piano melody and minimalist drums and productions, leaving SZA to take the reins through her voice. It's understated and quiet, yet more significant and relevant in 2017 then even SZA may realize.
Fleet Foxes – Third of May / Odaigahara
Crack-Up deserves more love. It's one of the smartest, most well-produced, and beautiful albums of the year and I've been in love with it since this song dropped. An eight-minute single is a bold choice, but Crack-Up is a bold album and this song captures its message perfectly. Luscious, dense, and beautiful, in the rare moments this year made me smile this song was a good friend and made me take a step back to appreciate our days.
Algiers – The Underside of Power
My guys Algiers don't get no respect. They have one of the most unique sounds of anyone in the music industry and put on some fantastic shows, yet they are consistently overlooked by most music journalists. No matter, I am a fan and think this song reflects the year very well (in, surprisingly, one of the only great political anthems of the year) with it's uproaring angry vocals and pounding drums. Pointed lyrics and passionate fervor ringing from the band makes me wanna get up and yell, and not enough songs encouraged me to in a year where I'm sure many people wanted to do just that.
Mac DeMarco – My Old Man
Another album I'm surprised to see snubbed by almost every music journalist this year, This Old Dog was a surprisingly mature and reflective album from indie goofball Mac DeMarco and this one of the debut singles reflects this change in style and tone perfectly. "My Old Man" is a confrontation of growing old, losing that lust for life, and realizing the mistakes Mac has made in the past. It's understated and reflective with a calm, yet uncomfortable synth line that compliments the quiet pain Mac is suffering in the lyrics. In a year of great change for me this song was needed at times and is a good reminder to take a step back and appreciate youth while you can.
Remo Drive – Yer Killin Me
On the other end of the spectrum is the most youthful song I've heard this year. What is, inarguably, one of the angstiest songs ever is also incredible for having a ridiculously catchy hook, clever lyrics, true passion, and 2 unique outros. It's a song I play with my friends all the time and it just makes me smile. And to top it off it has an incredibly fun music video that makes you feel one with the band (even if the Naruto running is a tad excessive). A gem from this year and I'm sure Remo Drive are going to continue to do great things.
Pile – Texas
Sometimes you have to just appreciate banging guitars. "Texas" just rocks. Honestly I don't even know any of the words or what he's saying and I don't care. It's so tight, it rocks so hard, and is perfectly representative of Pile, one of the most underrated bands out there right now. There's nothing more to say really, this song is just a jam.
Kendrick Lamar – LOVE FEAT. ZACARI.
Fantano got it wrong with this song. On an album I will not hesitate to call inconsistent and rather underwhelming, Kendrick delivers on LOVE a beautiful ballad with one of the most unique hooks he's ever done and a lush and passionate vocal performance from Zacari. LOVE makes you just want to sit back and vibe out while listening to Kendrick  get tender and wistful for maybe the first time ever. Unlike most of his album, and much music this year for that matter, it's different and bold, and rather than being bleak it's a rare point of hope and beauty.
Vince Staples – Yeah Right (feat. Kendrick Lamar)
Yeah Right makes it here for having the balls to be aggressive. SOPHIE, who co-wrote and produced this song, is a producer to look out for, dropping several bangers this year with a multitude of performers all with her unique, choppy, and mostly, aggressive beats. And in true SOPHIE fashion Yeah Right is an assault on the listener in the best way possible. Energetic, youthful, and brash, it makes you want to move, with Vince screaming the repeated chorus and firing rhymes like a machine gun in the verse. It also features a verse from Kendrick with more life than maybe any song on DAMN., which is amazing to see brought out on him on this single. If you ever just need to yell, Vince Staples is here for you, and if I am placing bets on who's going to be the next Madlib my money's on SOPHIE.
Mount Eerie – Real Death
This album and song is what pain feels like. Written after the death of his wife and mother of his child, Phil Elverum's (or Mount Eerie) A Crow Looked At Me is not an enjoyable experience but a vital one. Arguably there has never been an album more intense, heavy, and raw. "Real Death," the album's opening track, makes this clear very immediately with the opening lines "Death is real. Someone's there and then they're not. And it's not for singing about, it's not for making into art." If you have lost someone or just need to cry and let your feelings of loss and anger out I promise you this album will help you and sympathize with your pain during the unfortunate time of suffering.
Frank Ocean – Chanel
Even when Frank isn't dropping albums he's making some of the best tracks of the year. "Chanel" is warped and odd, unlike any Frank song or really any traditional pop song, with it's choppy beat and strangely rhythmed hook. Yet it all comes together so well in a trippy, surreal statement of a song. Smart lyrics and one of the most complex and interesting song structures make "Chanel" brilliant and a song that pulls one in to Frank's mind in a new way from many of his tracks. One thing is clear, Frank Ocean is not slowing down.
Lou the Human – Macklemore
When it seems abundantly clear that Eminem has lost all of the charm that made him famous initially, Lou the Human has step up to bat. Arguably the most promising young rapper out there, his entire mixtape is a sea of over-the-top hilarious and bombastic tracks, but "Macklemore" takes the cake. An all out assault on modern rap, Lou is self-deprecating, funny, and has one of the weirdest and most enjoyable beats that he just completely owns. It's rare that a new rapper exudes confidence like Lou and can completely own a track like this.
Tyler, the Creator –  911 / Mr. Lonely (feat. Frank Ocean)
Tyler finally found what he was made to do on Flower Boy and "911" is the prime example of this. A funky bass beat, key changes that mark my heart soar, and verses that capture the heart of longing and loneliness like no other. Declaring "the loudest is the loneliest one in the room" Tyler boldly declares his discontent in an anthem for those without people to sing to. It makes beauty out of hurt and displays a level of maturity I never would have expected from Tyler, the Creator.
Julien Baker – Appointments
It was truly amazing to see Julien Baker's growth as a musician this year. Taking all that made Sprained Ankle great and improving on it, Turn Out the Lights is a deeply wounded, personal album and "Appointments" is its finest moment. This is a song about feeling broken and losing to will to fix it. Julien sings of how alone she feels and how she just needs to stop missing her appointments so she can get better, but loses the will. It's a brutal and extremely emotional testament and it builds so brilliantly, showing her songwriting ability with poise. It's a song for lonely nights, one that reminds you that other people feel the same way and are trying to get through it.
Clairo – Pretty Girl
Look out for bedroom pop, it's the next big thing. Clairo broke out onto the scene this year with the most charming music video ever made, filmed in her bedroom on a lazy morning to make herself feel better. It's ridiculously catchy and so human that it's no wonder 7 million people resonated with this random girl and have put her in a position to be one of the most promising young musicians out there. It's the kind of song you just vibe with and it's a brilliant piece of music from someone in the same position as the average listener.
BROCKHAMPTON – BOOGIE
BROCKHAMPTON were clearly the group of 2017, making not one but 3 unique and fantastic rap albums that were dropped throughout the year. There were many fantastic singles of theirs to choose from, but I decided to go with BOOGIE if just because it features amazing verses from every single member of the group, is ridiculously catchy, and has a freaking electric kazoo to carry the main beat and is still awesome and aggressive. This is what a BROCKHAMPTON track sounds like (and the video is what a BROCKHAMPTON video looks like) and I wouldn't have it any other way. It's an anthem, it's a jam, it's BROCKHAMPTON, best boy band since One Direction, call your mama.
Protomartyr – Don't Go to Anacita
It baffles me that there were not many angry political songs in a year with so much material for it, but post-punk outfit provided with the angry, punchy "Don't Go to Anacita." Filled with rage over the devolution much have the country has gone through as the world got bitter and much felt lost (fill in "any city" for Anacita and you get how Protomartyr feels about the country right now), Protomartyr provide one of the most passionate, smart, and well-crafted punk songs I've heard in some time. Biting lyrics that criticize both sides of the aisle and beg for restoration, Protomartyr sum up what most people felt about 2017: it sucked, so why not get mad about it sometimes?
MGMT – Little Dark Age
This single from MGMT struck listeners for its distinction when put up against their most popular songs like Kids or Time to Pretend. This eerie single lures you in with its rhythmic, almost 80's-esque synths and deep bass parts. While the song keeps to its synth pop roots in terms of instrumentals, it takes an almost spooky tone that differs greatly from that happy, poppy tracks they're notable for. This song has much to be desired for whatever album MGMT releases in the future and is definitely a must-listen track for 2017.
King Krule – Dum Surfer
Holy hell, this song is amazing. Coming from none other than singer/songwriter, better known by his stage name King Krule, this track just does so much right all at the same time. The song begins with King Krule's very monotone and driving vocals with a fantastic drum beat to match. The segway from the fast guitar solo to the jazz-fueled saxofones blends flawlessly. The noire feeling that this song gives could make you think it was raining in the sunniest of days. Overall, outstanding song and best song of 2017.