One Marking Period Down, Three to Go!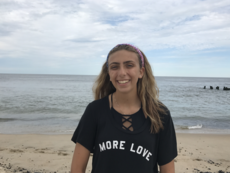 More stories from Loryn Camp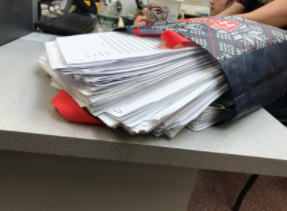 Congratulations Madison High School body, we have made it to the end of the ever-so stressful first marking period. The school year is officially a quarter of the way over, and those three remaining marking periods are so anxiously awaiting our arrival.
The end of the first marking period is no doubt an achievement to be proud of. We made the successful transition from summer back into regular school life, and remembered how to write again after months of dormancy. You've probably made new friends in your classes, and feel like best friends or worst enemies with all of your teachers for the year. We're proud of you, we know it's hard to get back to work!
The first marking period can arguably be the hardest for those said reasons. Even though the work may be easier because everyone is settling into the year, the true stress comes from being back in the competitive school environment, and relearning how to manage your time in a healthy way. MDO asked Senior Alex Gonzalez  how her first marking period went for her, and Alex knew she learned some valuable lessons to remember for the rest of the year. "I learned that sometimes I might need more than an hour or two for homework and I learned that the hard way. What could have been fluff points turned into grades that hurt my average."
The shock of returning to school work has been hard for everyone, teachers included. Mrs. Bergen, an English teacher at MHS, is no exception to this stress. The first marking period is always extremely busy for her, from trying to learn the names of 5 classes worth of new students, to assisting multiple seniors with their college essays and supplements. She said that, "I meet with students during all of my lunch periods, before school, after school, and every tutorial I have for college essays, and this is a very gratifying process as I am able to see my juniors from last year applying their knowledge," but that time she spends helping others is also cutting down on her time for grading.
The end of the first marking period is also a great time of stress for students and teachers alike. As soon as teachers put the final grades in, there are students on Genesis seeing how it changed where they stand. Every single point matters. Senior Meera Parikh stated "Because a lot of my teachers leave a lot of grades and major assignments for the end of the marking period, so I don't really know what my grade will be". Students wait on the edge of their seats until there is no going back, and grades are final.
But that's the beauty of the first marking period. There are three more chances to get back on the work grind, and enjoy the ease of having a schedule. Senior Katie Kern discussed the relief of all of her college apps are done, adding that  "I want to enjoy all the things senior year has to offer. I'm going to try to go to as many sports/schools events that I can and enjoy the limited time we have left." It's important to work hard, no matter what grade, but to also enjoy the high school experience while you can.
View Comments (6)