How Rescue Farm Animals Change Lives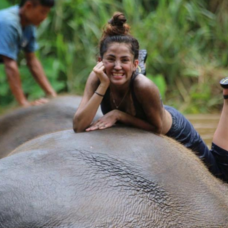 More stories from Sam Grobert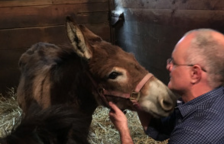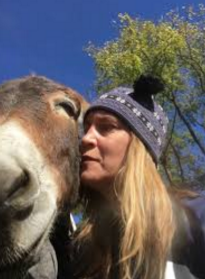 Christina Vanlenten, a harding resident, has rescued 13 animals over the past couple years, 7 of them being farm animals. She has rescued a sweet pup named Maggie (13), two cats Bugger (3) and Squeaks (12), four goats Pepsi & Cola (1.5) Bo & Radar (1), three rabbits Thumper (3) Harvey (3) and Beatrix (2), a donkey named Dominic (17), and two mini-horses Coco Chanel (9) Natty Cookie (2).
Meet Dominic a 17 year old donkey who was rescued by Christina from Barnyard Sanctuary, a nonprofit that takes in or rescues farm animals from bad situations. Their mission is as follows: "The Barnyard Sanctuary's mission is to find a new home for displaced farm pets that have become homeless due to the financial, social, economical or physical well being of their current caregivers". Dominic had belonged to a family in Chester, New Jersey where he was a companion animal for a horse. The horse had passed away and he was by himself. One night he was attacked by a bear and was found that morning in the family's pool. After this occurred the family had no longer wanted to keep him, and for his safety they gave him up to the Barnyard Sanctuary.
Christina started to volunteer there on Saturdays after reading a horrible story about a hoarding situation that affected her greatly. The Barnyard had helped to rescue several of the animals from that case. Christina had followed the story and decided to adopt two rabbits and after going there to pick them up, she started volunteering there, "I just loved what they were doing and I knew that I could help".
She met Dominic shortly after he arrived there and she instantly fell in love with him! She and her husband John had became his sponsor and hoped to adopt him one day, but sadly they did not have the space for him, his girlfriend Natty Cookie and her mom Coco Chanel. (They are a package deal!)
When Dominic arrived at the Sanctuary he fell in love with Natty. Nattys mother Coco Chanel was taken to an auction in Iowa and not sold, she then came to an NJ auction where she became pregnant and was going to be sold for slaughter. The Barnyard Sanctuary rescued her and she gave birth at the Sanctuary to Natty.
One day Christinas husband, John, saw a notice in their local deli for a "rough board available", they called and it was meant to be! It was perfect for Dominic, Natty, and Coco. A beautiful barn with two fenced in paddocks for the animals. They brought the three home and it was the happiest day for them! Although the three spend over $10,800 a year for the three, it's more than worth it. Christina says that they, "have brought tons of joy and lots of hard work into our lives. They make me laugh and smile everyday!"
View Comments (4)