A Perspective on the Student Selection Process Behind "Every 15 Minutes"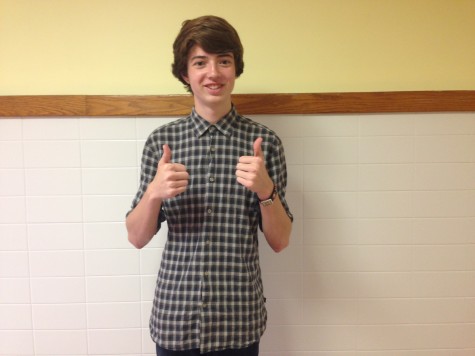 More stories from Brian Culligan
If you saw MHS' production of Oklahoma!, you may remember Curly MacLaine's iconic line, "Well sure, Jud; you never know how many people like you until you're dead." While this statement is discredited to an extent by the context in which it is delivered (attempting to coerce a nemesis into committing suicide) Curly is right. Society's perception of the importance of one's life is often revealed in his or her death, as loss shines a spotlight on a newly vacant space – one whose previous fullness may have gone unnoticed. It is the sad truth that many are not fully appreciated until it is too late, especially in high school, where life can be taken for granted on account of youth. When tragedy strikes, it does so senselessly and without discrimination, serving as an unwarranted wakeup call about the fragility and preciousness of life.
But what if such a wakeup call could be controlled, and later reversed? Those in charge of MHS' Every 15 Minutes program have just this power – a sort of simulated divinity capable of striking down and later resurrecting members of the student body. Obviously none of it is real, but witnesses of the accident scene and of the tearful echoes of the deceased in the subsequent assembly seem to lose sight of this. The emotion felt in the school is real, and in this, the program is deemed successful as such emotion will naturally lead to bringing the dangers of intoxicated driving to the forefront of consciousness.
There is no doubt that Every 15 Minutes is daring. It may be the only instance in which the school deliberately exposes its students to a traumatic experience, and does so proudly and admirably – confident that the benefits will outweigh any potential backlash. This administrative bravery comes for a noble cause that few would argue against; however, in such an extreme display that touches on themes as brutally real as paralysis and death, it is important to consider the effects and implications of the execution of Every 15 Minutes that go beyond its intended purpose – primarily, the reasoning behind choosing the participants.
Upon discussing with peers, I found a common theme that has gone unrecognized by some but disputed by none is that the students chosen to be involved in the accident scene of Every 15 Minutes, particularly those whose death is simulated, are among the so-called "socially elite" – those outwardly admired by many who tend to receive consistent positive attention from students and faculty alike.  The rationale behind the nearly exclusive selection of these students as participants by the administration is not publicized, and is thereby left open to interpretation.
The rationale appears to be as follows: the impact of a student's death is contingent upon how widely liked he / she is. A more blunt yet logically resulting corollary to this approach would be that some students' lives seem to matter more than others to the administration and to the student body.  This obviously problematic, albeit likely unconscious mindset overlooks the inherent tragedy in death that transcends social barriers, and it imparts a value judgment on lives as a whole. A degree of social classism is an inevitable part of life, especially in high school, but it should be kept separate from death, even simulated death. If directly questioned, any faculty member of MHS would say that every student possesses equal intrinsic value as a learner and a human being, and so a program designed to call attention to the fleeting nature of these unalienable attributes should remain blind to individual status in the school community.
Furthermore, the skewed selection of participants leads to a missed opportunity to shed light on the vital role that more introverted students serve at MHS. It is easy to fall into the trap of overlooking accomplishments quietly made, small victories achieved, and deep bonds that exist out of the spotlight. Many, including myself, do so on a daily basis. Every 15 Minutes provides a critical chance to better unify the school in prompting a deeper investigation into the unique qualities of lesser-recognized students whose individuality is not worn on their sleeve. An emotional reaction to a scene as horrific as that presented in Every 15 Minutes is inescapable regardless of one's personal closeness to those involved, and this response could be better utilized to increase awareness and understanding of those chronically underappreciated. Death prompts remembrance; yet, with the current selection process, this program prompts the remembrance of lives that were never forgotten in the first place.
All this being said, it is important to note that the students themselves selected to participate in Every 15 Minutes cannot be faulted in any way. They consistently executed their role with mindfulness and did an excellent job of displaying a level of maturity matching that of the subject matter at hand. Nor should anyone be penalized for popularity, as there is no inherent connection between social status and character.
To best mimic the nondiscriminatory nature of tragedy, uphold the equal value of each and every student, and create unification through increased awareness, I propose a truly random selection process for the Every 15 Minutes Program. Of course, students and their families would have the option to deny participation, as many likely would, but this revised administrative process in itself would better reflect the profound love that MHS has for all of its students. As we make every effort to provide an educational experience to keep preventable death at bay, let us simultaneously celebrate the precious and diverse richness of all our living.
Leave a Comment