Madison Girls' Golf 2017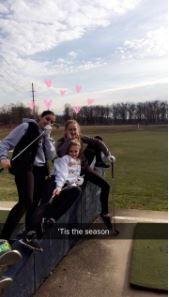 The Girls Golf Team at Madison High School is a relatively new program that has since, gained popularity as an alternative to the usual girls Spring sports that consist of lacrosse, softball, and track. Girls golf was officially a team as of the 2016 season, however prior to that, girls could play as a part of the boys team. Pioneering this new team were former seniors Sam Blount, Megan Dyer, and Megan Brennan. The three instrumental in the development of this program and represented Madison well by being selected to play in their matches, along with a few other rotating girls. With a 5-3 record, the team certainly was off to a good start. Now for the 2017 season, the team has been left to a young group of girls with no seniors to lead the team. Instead, juniors Sage Geyer, Maddie Farrell, Kyra Makowsky, Joyce Cui, and myself, along with sophomores Nicole and Alex Artigliere, and freshman Madeleine Shannon and Emma Yousey, have taken over the team with hopes of further expanding the relatively new team's success.
A typical practice week is tough to lay out because the schedule is always changing, but the girls can get their practice in in a variety of different ways, some being: going to the range at Anchor Golf Center, practicing putting at the junior school or high school, attending a practice round at the Madison Golf Club, Pinch Brook Golf Club, and Morris County Golf Club, and/or practicing chipping and other short game skills at the high school. Because golf is such a difficult sport to master, the team works to get to as many practices as possible to better their play.
This year, the Girls Golf Team has a new head coach, Ms. Diamond who is a teacher at the Madison Junior School. Ms. Diamond has grown up with lots of experience playing golf. She was on the girls varsity golf team at Morristown all four years of her high school experience, and ever since, she has loved to get out and play as much as she can, perfecting her skills. Coach Diamond will be able to offer the girls on the team useful advice and provide the players with the skills necessary to succeed.
While the Girls Golf Team is a young, new team, it is certainly gaining popularity, and in the future, will likely have a high level of participation from more and more students at MHS.