Student Spotlight: Olivia Kranefuss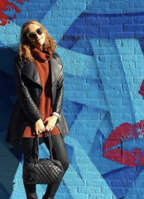 More stories from Anastasia Elefante
MHS junior and photographer, Olivia Kranefuss, is having an art gallery at Cafe Beethoven in Chatham, opening on October 13, 2016. Bakery owner, Andrew Copp, offered Olivia an opportunity to exhibit her photographs in his shop. Olivia has had her photos displayed at Drip Coffee in the past and has also had her photographs selected by a panel of judges to be displayed in the Blackwell St. Art Competition that takes place every March. MDO sat down and talked to Olivia about her interest in photography and her upcoming gallery in Chatham.
MDO: What made you first interested in photography?
OK: I think I was always interested in photography, because I've always liked taking an ordinary object and changing the perspective it is seen from by moving the camera to take a shot from an interesting angles or taking a close up photo. I remember walking around the house at Halloween and Christmas time from a young age, and taking pictures of all sorts of random decorations because I loved changing my angles and getting close-ups. It wasn't until later years though, that I began taking quality photos and wanting to share my work with the public.
MDO: Where do you draw inspiration from for your photos and how do you come up with the composition for your photos?
OK: I generally take photos of nature, because that's something I find all around me. What particularly draws me to nature is the beauty of it, and I enjoy taking close-ups of animals and flowers that fill the page with color and movement. I often study the object of interest before taking a photo and think about a different way to approach it, a different angle to capture its essence, one that will hopefully cause the viewer to stop and look at the object in a whole new light.
MDO: Have you taken any photography courses at MHS?

OK: Freshman year I took an introductory photo class with Mrs. St. Jacques and loved it. Last year, I became part of the newly formed photography club and have continued as the vice president this year. It's exciting to be part of such a new club that focuses on something I am so passionate about!
MDO: Did you approach Andrew and ask him if you could display your photos or did he approach you? If he approached you, how did he hear about you?
OK: This summer, I was looking for places of business in the area that could display and sell my photographs for a particular cause I am interested in. Cafe Beethoven is one such business that is very supportive of local artists. So, I decided to ask if the owner, Andrew Copp, would be interested in displaying my photographs. After bringing in some of my work, I was overjoyed that he was very interested in displaying my work.
MDO: Are you selling the photographs that are being displayed? If so, what do you plan on doing with the money?
OK: My photographs are for sale and all the profits will go the United Conservationists' Fin Free movement, a movement that helps to eradicate the killing of sharks for their fins. I am very passionate about conserving our world's oceans and its beautiful, powerful sharks. I chose this organization because its leaders are doing great things and taking big steps to protect sharks. I'm excited to support this cause and hope that with my sales, I can make a true difference and raise awareness about this topic!
MDO: Of the photos being displayed, which is your favorite and why? How many total photos will be featured in the exhibit?
OK: 13 of my photos will displayed, but I have a few more that will also be for sale. Of these photographs, I love those that are nature close-ups. My favorite is a bee that is perched on the flower of a butterfly bush. Its wings are open as if it is about to fly away. I love this one because it was one of the first I had taken that sparked my interest in more serious photography, and it was the first one where I felt very proud of my work.
MDO: Do you have plans to pursue a career in photography after high school?
OK: While I am not sure I will major in photography, I definitely want to continue to improve my skills in college and beyond, and, like I am doing now, I want to always use my photography for a great purpose.
MDO: Is there any other additional information you would like MDO or residents of Madison to know about your gallery?
OK: My hope is that many people of Madison and surrounding areas will come to my opening, have a chance to see my photographs while visiting with friends, and take one home to support my cause! I also want to send a big thank you to Cafe Beethoven for taking such a large interest in my pictures as well as my cause, and for making a great cannoli cake!