Sitting Ducks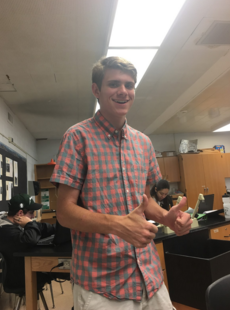 More stories from Michael Quinn
Among the many musical minds found in Madison High School, there are few that become as close or original as the band locally known as the Sitting Ducks. The band, composed of frontman Rob Bazaral, guitarists James Mikula and Anthony Orellana, bassist Evan Sievers, and drummer Sean Theoclitus, started from humble beginnings, showing up on Thursday nights at Madison's local pub Poor Herbie's for their weekly Open Mic Night. Since then, the band has garnered the attention of several music outlets and has even been requested to debut at venues like Crossroads in Garwood, NJ.
Despite the band's newfound success, the band itself is still young, and has only recently gained vital members like bassist Evan Sievers. The Sitting Ducks' story began at the School of Rock in Chatham, NJ, where frontman Rob Bazaral met lead guitarist Anthony Orellana, both of them there to practice music. As they became closer with one another, they both got the idea to start a band. This led to the two picking up assets to the band like Sean Theoclitus and James Mikula, further developing the band into what it is now.
The Dodger Online sat down with each member of the band and learned a lot about the band and what makes this diverse cast of musicians so inviting to their audience.
Lead guitarist James Mikula joined the band around late January of 2016, after being approached by Rob in jazz. James's impressive guitar playing is likely attributed to his long-time experience with the guitar, as he has been playing guitar since the 3rd grade. James explained that he gets much of his influence and style from famous guitarists like John Frusciante, Mike Mccready, Slash and Jimi Hendrix. James told us that he feels that he "adds his own flare" to the band's structure.
Drummer of the band, Sean Theoclitus of Seton Hall Prep, has been part of the band since the very beginning, answering the call of Rob Bazaral and Anthony Orellana to join. Playing the drums since 6th grade, Sean's since mastered the drums, perfecting his own style of traditional grip. "I don't play it because it's hard, I play it because it's different," Sean told us on the topic of playing traditional grip. Sean gets his influence from his girlfriend Colleen Graham and the Strokes. Apart with his participation in the Sitting Ducks, Sean has participated in several drumming competitions, including being the winner of Springfield's drum-off, and even qualified nationally.
Guitarist and co-founder of the band Anthony Orellana, also of Seton Hall,  has always "had an ear for music," he told us, as he supposedly grew up in a very musical environment. Anthony has been playing the guitar since 2nd grade, and considers himself to be the core of the band's sound. His odd and bombastic personality adds a lighthearted tone to the band's somewhat serious mood. Anthony gets much of his influence from Mac Demarco, the Strokes, his parents, and his girlfriend Annette. He considers James Mikula his rival, insisting he is the better guitarist in the band, though that is left up to debate. Anthony claims to be able to flawlessly play Van Halen's Eruption guitar solo.
Bassist Evan Sievers is the newest member of the Sitting Ducks, but this in no way makes him inexperienced. In the past, Evan used to perform in an amateur band with his friends, where he honed his bass skills before the band's inevitable end. Evan has been playing bass for as long as he can remember, and gets much of his inspiration from artists like ACDC, Tom Delonge, and Carlos Santana. He enjoys making new music with the band at their practices and is always "eager to make more progress."
Finally, there is the frontman of the band, Rob Bazaral. Rob has been singing since elementary school and obviously still continues to sing today. Rob has always had a passion for singing, and attributes much of his inspiration to singers like Ezra Koenig, Julian Casablancas, Andrew Savage, and David Byrne. Rob admitted that he "gets nervous performing live," but regardless, he and the band excel all the same.
The local band felt has drawn more eyes than they ever expected, and is has shown remarkable effort in developing a band built on fun and skill. To see hear more of the Sitting Ducks, follow the link to their EP : https://sittingducks.bandcamp.com , or see them live at the Crossroads music venue in Garwood, NJ on Oct. 6. For more information about the show band, contact Rob Bazaral at (973)-908-3473.