Lynott Kicks Off Mad Talks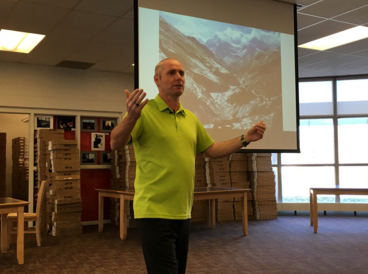 On Thursday, January 21st, Madison High School hosted its first monthly "Mad Talk". Mad Talk is an opportunity for teachers and students to share their impactful world experiences with the school community.
To kick off the first Mad Talk, Coach Lynott shared his story titled, "Lessons from the Rooftop of the World".  His four-month journey started in New Zealand, and continued to Australia, until finally Coach Lynott ended up in the country in South Asia known as Nepal. For six entire weeks, Coach Lynott experienced a whole different world in the Himalayas.
Coach Lynott shared an encounter he had with a young child in the mountains of Nepal. At eight in the morning, Coach Lynott was climbing a desolate trail when suddenly a six-year old girl ran across his path. When Lynott asked his guide where she was headed, the response he got was shocking. The young girl, who was nearly twenty minutes away from her village already with another forty-five minutes of of walking to go, was on her way to school.  The distance this child had to travel just to attend school each day struck Coach Lynott as extraordinary.  He compared this journey to that of most American students, and couldn't help but to think of some students here at Madison High School who complain about having a parking spot in the tennis lot rather than the gym lot.  That certainly helps to put things into perspective.
During his journey, Coach Lynott was staying with a family that made him feel more than welcome in their home. This family did not have much at all but were extremely thoughtful towards their guest. For example, the family killed their chicken to cook for Coach Lynott to honor his triumph of hiking over the pass. Touched by their generosity, Lynott took this opportunity during his talk to share a quote he once read that summed up his host family: "No act of faith is as generous as the hospitality of the poor".
Lynott's advice?  The opportunity to travel the world and experience other cultures is one every person should take advantage of. No matter where you go, you will not only be changed by the experience you had, but you will also change those who get to share that unforgettable experience with you.