Madison Goes Green: Fifth Annual Green Fair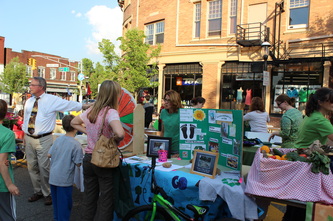 With the arrival of spring weather and shorts season, Madison is looking to take advantage of the newly green landscape by inspiring residents to "go green" around town and in their homes. Madison is hosting the 5th annual outdoor Green Fair on Thursday, April 24 from 3:30 to 6:30 in the center of town. Its purpose, in the words of Sustainable Madison Committee member Ellen Kranefuss, is to "promote awareness and resources for sustainability from residential and commercial viewpoints" by "connecting neighbors with neighbors for simple green initiatives in their homes and in their yards and connecting Madison residents with resources in order for them to make a larger sustainable impact."
This year, the Green Fair is scheduled for full capacity with 40 tables reserved for sustainable Madison businesses, alternative energy displays, and more. MHS' very own Project Aware, run by MHS teacher Carole Rawding, will be represented as well, with student volunteers face-painting and spreading awareness about the club's mission and initiatives. They will be joined by the Madison Junior School's environmental club as well. Other displays include 350.org, which tracks the planet's output of carbon dioxide and other greenhouse gases – an especially important mission in light of the recent excess of maximum greenhouse gas levels in the atmosphere; the Purple Dragon food co-op; and various wind and solar power companies. The YMCA, Madison Public Library, and Drew University will have tables as well.
The Sustainable Madison Committee, which has been one of the groups responsible for organizing the Green Fair, will have a particularly active exhibit. Their table will show Madison residents all the ways they can go green this spring, including a composter, rain barrel, battery-powered lawnmower, and plug-in Prius on display. They will offer simple yet sustainable suggestions for living in an environmentally friendly manner, and plan to offer tours of the LEED certified house on Central Avenue as the epitome of green living. They will also be unveiling their new website, www.sustainablemadisonnj.org, which puts all these suggestions at residents' fingertips with the click of a mouse.
Live activities will also be offered by Trans Options, including StreetSmart pedestrian demonstrations and 4:30 and 5:30, free MAD shuttle rides on April 22 and 24, and a Bike to Work challenge registration.
With all this and much more to see and do at the Green Fair, its organizers anticipate a very active turnout. Last April, an astonishing number of residents came to the Green Fair – which is always held around Earth Day to honor the Fair's mission – despite it being held on the rain date. This year, the organizers, which include the Sustainable Madison Committee, Madison Environmental Commission, and Boy Scout Troop 25, are doing all they can to make sure this Thursday's Green Fair will be even better with more opportunities and exhibits. Particular efforts have been spearheaded by Betsy Uhlman, Laura Prout, Judy Honohan, and Susan Niculescu, but the whole fair has been a town-wide effort, with many members of the aforementioned groups volunteering to help.
The Green Fair promises to be an enjoyable, informative event for all of Madison. Please stop by and support Madison's sustainability efforts – you will learn a lot, and have a lot of fun!