MHS Ice Hockey: A Look Ahead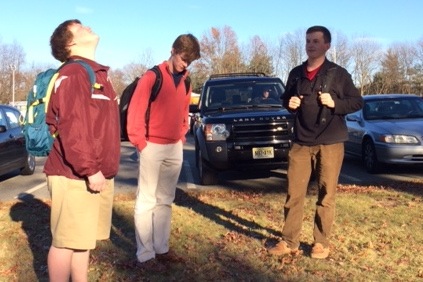 Last year marked one of the MHS ice hockey team's greatest seasons of all time. Finishing the winter season with a solid 14 wins and 5 losses, the "ice boys" lost in a heart-wrenching defeat to Mendham in the second round of the NJSIAA tournament. As the 2013 ice hockey season approaches, the whole school is waiting in anticipation to see what this year has in store. Madison Dodger Online caught up with hockey captains Ryan Hoover and Peter Andersson to see what they have up their sleeves this year.
MDO: What is the team's key to success this year?
RH: We're going to need to rely on our captains for leadership and motivation if we really want to go all the way.
MDO: Who are the players to look out for this year?
RH: Possibly the best goalie in the state, Peter Andersson. Also look out for sophomore superstar Adam Beads.
MDO: Last year you guys had some pretty great posters up around the school, do you guys have anything big planned for this year?
RH: That's classified information.
MDO: What outfits do you guys have planned out for this season?
RH: It doesn't really matter what we wear on or off the ice; we're always the better looking team.
MDO: So far this year, MHS students have been pretty supportive at other sporting events. What do you expect from them this winter?
RH: We expect a packed house every game, no exceptions. You can get away with a lot at the game, so go nuts.
MDO: Many players on the team get close to each other both in the locker room and on the ice.  Do you feel that you have gotten closer to your teammates over the last four years?
RH: While I can't elaborate what goes on inside the locker room, I can say that we have definitely gotten closer. When you spend so much time being around the same guys every day, you obviously get close to most of them. Sometimes we get a little too close but for the most part we're all pretty good friends.
MDO: How does it feel to get back on the ice?
PA: It feels good to be back on the ice. Although I've been skating since the summer with my other team, it's good to be back on the ice with the high school team. This is definitely the best time of the year.
MDO: What did you guys do in the offseason to prepare?
PA: During the off season we like to just get the guys together and play random sports. Even though we're not playing hockey because we don't have any ice time, it's good because it helps build team chemistry and it's a fun way to get in shape for the season since no one likes to actually work out.
MDO: Is there still any chemistry left over from last year with you guys?
PA: I think this year there is a lot more chemistry on our team than last year. This year it will be a consistent team effort from everyone because everyone is at the same skill level unlike the previous year where it has been all about one player.
MDO: What do you think about having fans come out? How do you plan to promote your games this year?
PA: Yeah, we love when people come out to the games. I think the hockey team does a pretty good job of promoting our games. We're pretty well known for our promotional posters we put up, but we just need to keep them a little more g-rated now.
MDO: You obviously lose a lot in your brother (Erik Andersson, highest scorer in Madison Hockey history) and Grant Perry, two outstanding seniors from last year. Who are some players that will step up this year to help you guys succeed?
PA: Losing Erik up front is obviously a hard spot to fill but you're going to see upperclassman like Ryan Hoover, Pat Zimmerman and Kyle Midlidge stepping up and playing a big role in our team.
MDO: Who's a player to watch this year?
PA: We don't really have one player to watch this year. Unlike in the previous years where our whole team was just about Erik, this year it's going to be more of a team effort. You're going to see a lot more people scoring but not as much individually.
MDO: What's the honest expectation on the season?
PA: I think we're going to do really well this year. Everyone's going to be putting in a lot of work and making it a true team effort. We probably have the best defense in our league and three pretty solid forward lines. I could definitely see us making it far.
The Dodgers go on to play Gill St. Bernards Friday at 12:15 in the Mennen Sports Arena.