Prom: Our Greatest Glory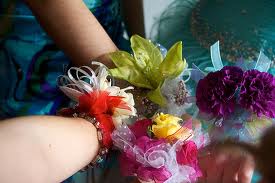 The most important day of all our high school days is upon us. All of our accomplishments, victories, memories, encompassed and glorified in a night that promises to run like a reel from a Disney movie. High school is the most beautiful time of our lives, the best four (or more) years, void of drama, awkwardness, and distress. How better to honor our time within the walls of Madison High School, time that has come to an end so soon and has forced seniors to brace themselves for the unwanted and perhaps undesirable liberation of college, than by having one last stiffly formal get-together that emphasizes the influence of cliques and their unwritten social rules while providing an outlet for much needed obsession over tiny details like opulent limos and minimalistic Seaside motels?
What better life lesson than spending our class' hard earned $40,000 on one fabulous night surrounded by our teachers and administrators? Through vigilant efforts, from rummage sales to bake sales and car washes to tricky trays, fundraising for prom began at the beginning of our time inside the storied halls of MHS. Our hard work will not go to waste: we have raised enough funds to sponsor a photo booth at prom.
And the lessons and values learned from organizing intricate prom plans such as the perfect landscape for pictures and the ideal mixture of characters at your table are invaluable and applicable to the imminently approaching "real world." The imperative nature of ensuring that cicadas will not disrupt prom pictures and that humidity will  not ruin your up-do imparts perhaps the strongest and most valuable lessons that a high schooler can ever experience. Senior prom has proved, once again, to be a moving testament to the glory that is high school, like the brilliantly shining sunlight at the end of the noxious Lincoln Tunnel. One day, in the distant but inevitable future, we will all tell our children how proud we are of the responsible choices we made regarding prom. Hopefully our posterity will shoulder and embrace our traditions