Miami Madness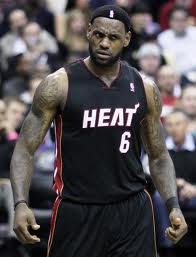 It's March now, and for basketball fans across the country, that means it's time for March Madness. For many, the electrified pace and "all or nothing" attitude associated with the college tournament is a refreshing reminder of the sport they fell in love with. These fans feel that the NBA, on the other hand, has grown into more of a business than a sport.
Sophomore Will Wraith said, "Yea the NBA is fragile. They don't play hard anymore except during the playoffs. I feel like they care more about money or getting hurt than about actually playing the game. It got boring to watch and I look forward to March Madness because it's exciting."
He's right and he, along with millions of other fans, are happy to go from yawning over NBA games to enjoying the college ones.
But this year has been a bit different. Although many fans have made the switch from the pros to college, many have stayed. Why? Well, this year the Miami Heat has been enchanting both fans and "haters" with a madness of their own.
On March 25, 2013, the Miami Heat stretched their winning streak to 27, just six wins shy of matching the 1971-1972 Lakers for the longest consecutive winning streak in NBA history. Love them or hate them, it seems as though the Miami Heat can't lose. Taking this momentum into the playoffs presents a scary foe for opposing teams.
Head coach Eric Spoelstra talked about the winning streak. He said, "This thing just happened when we were focusing on just trying to get better with the process."
So, dedicated college fan or not, take some time to watch the Miami Heat play. They're making history.