Local New Jersey Resident Wins Jackpot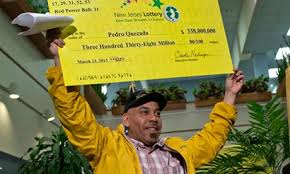 This past Monday afternoon, a fellow New Jersey resident, Pedro Quezada officially won the $338 million Powerball jackpot. The 45 year-old bought the lucky ticket at Eagle Liquor store in his hometown of Passaic, New Jersey. Neighbors have described Quezada as a "soft-spoken, determined, hard-working, family man."
It is no surprise that Quezada, a native of the Dominican Republic was completely shocked at the news of becoming a millionaire overnight. Quezada says his first priority is to ensure good health for his family because they are the most important people in his life. Prior to winning the Powerball, Quezada worked 18-hour workdays at his bodega in order to support his five children (age 5 to 23) and wife.
Quezada remarkably states that "my life has changed, it will not change my heart". It is clear that the resident of New Jersey for 26 years is extremely humbled by his win. Quezada also hopes to assist his tight-knit neighbors with his win. Also, he hopes to treat himself to a brand new car, which after his years of hard work is clearly deserved.
The storeowner has opted to take the payment in full all at once, which will be $221 million. After taxes, Quezada will have $152 million to spend on whatever he wishes.
Source:
http://abcnews.go.com/Business/powerball-winner-pedro-quezada-money-change-heart/story?id=18816384#.UVMCmxz8u4A