Football Midseason 2022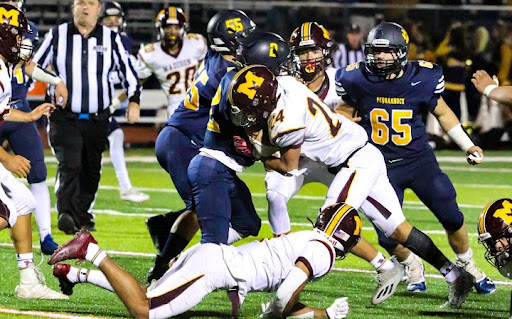 A cold and rainy Saturday afternoon meant nothing to the Dodgers. They put up a hard-fought battle against Mendham and ultimately came out on top with a 6-0 win. All six points came off the foot of senior quarterback and kicker, Brayton Boyer.
Unfortunately, the Dodgers took a hard 35-7 loss against the very strong and undefeated Caldwell team. These points came from a touchdown by junior tight end Luke D'Ambola – his first-ever varsity touchdown – and an extra point from Boyer. Unfortunately, this loss drops their record to 4-2.
A little more than halfway through the season, the Dodgers have some impressive stats. On the offensive side of the ball, junior running back Greg Randall leads the team in rushing yards and carries with 440 and 76 respectively. Senior running back Anthony Contessa has 41 carries for 290 yards and senior running back Jayson Candelario has 55 carries for 245 yards. Senior wide receiver Robert Ferris leads the team in receptions with 11 for 111 yards. All twelve extra points attempted by Boyer have been successful.
On the defensive side, senior linebacker Cade Laferriere leads the team in solo tackles with 31. Junior linebacker James Amorosi and senior linebacker Joey Demarzo have 29 and 22 solo tackles respectively. Senior defensive back Dante Izzo leads the team with three interceptions and Contessa leads the team with three fumble recoveries.
The Dodgers as a whole on offense have accounted for 221 carries for 1,195 yards. They have 208 receiving yards and 11 rushing touchdowns. On the defensive side, the team has 239 solo tackles, 28.5 tackles for a loss of yards, ten fumble recoveries, and six interceptions. 
The Dodgers look to finish their season strong. They play their next game away against Jefferson on October 14th at 7 pm. The week after they will play the only Friday night lights home game of the season against Morris Catholic. This will also serve as Dodger senior night. The game starts at 7 pm.