Romanelli's Italian Eatery Review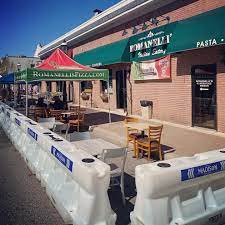 In New Jersey, the first thing that comes to mind when you visit or live in the state is pizza. There are tremendous pizza places across the state but Madison actually has respectable good pizza. Places like Italian village, Roccos, and Nicky's Firehouse. But then there's pizza places in Madison that bring the pizza respect level down.
                 Romanelli's is a place where if Dave Portnoy went there to review their pizza there's a good chance it could be lower than 5.0. Dave Portnoy is one of the biggest pizza influencers in the world, millions of people follow his content and he can make or break a pizza place. What drives Dave Portnoy is if the pizza has flopped.
                  Romanelli's flop is so crazy, as soon as you pick it up the the instantly flops back to the plate, and the cheese basically runs down to the plate too. The pizza is extremely greasy too, it's dripping in grease too. 
                Dave Portnoy would be losing his mind over the fact of how much grease there is. That's only the pizza at Romanelli's; they also serve other stuff such as pasta and sandwiches. Those are nothing special either, you might as well go to a gas station and get a cold sandwich. There is zero flavor in the sandwiches and they are always cold. The pasta is not horrible but I certainly wouldn't get it again. My pizza review rating for Romanelli's would be a 4.7. 
              There are a couple positives with Romanelli's. The staff there is extremely nice and they work really hard to give out the best food they can. They also actually have some good fries, they have a lot of flavor and they are really cheap so that is usually a go to order. Romanelli's staff is truly probably one of the nicest people around but, they just can't hang with all the pizza places around in Madison.