Björk – Fossora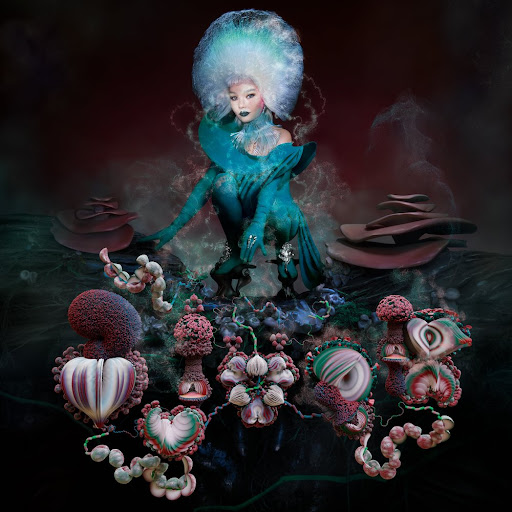 Genre: Art Pop, Electronic
Recommended for: Fans of Grimes, Animal Collective, Kate Bush, and FKA twigs, fans of experimental music
Björk has been a staple in avant-garde music for more than 25 years. The Icelandic singer has continued to use more unusual and unique sounds in her music, and this album is no different. Throughout the album, Björk utilizes many instruments—especially the bass clarinet—and interesting samples. Combine these with strange, enigmatic lyrics to get Fossora.
From the first track, "Atopos," I knew this would be an interesting album to hear. Björk's vocals stand out over the strange instrumental, consisting of a beat over bass clarinets, creating a sound that I don't want to like, but somehow grows on me. Prior to this, I had only heard Vespertine and Homogenic, two much less experimental projects, which I recommend to those who dislike the instrumentals. Compared to the sounds of earlier works, Fossora creates a much more fantastical soundscape. The sharper sound works in its own unique way, with jagged edges laid by the vocals and instrumentals. The album is filled with buzzes and hums interspersed with drums, samples, and strange instruments. In my opinion, there are only two other standout songs besides the title track. One is "Ancestress," one of two tributes to her late mother. The instrumental features intriguing strings and melodic chimes, overlaid with cryptic and analogous lyrics paying homage to the life of her mother. The other is "Her Mother's House," a beautiful closing track that consists of her best vocals and features a guest appearance by her daughter.
Other than the aforementioned songs, I can't say I found the album to reach the heights of some of her earlier works. This is not to say it is bad, however, as I don't think many albums rise to the level of Vespertine. I liked some of the other tracks, though I feel that there were a few tracks that were lackluster. Some I felt had grating instrumentals, as the eclectic combinations of instrumentals were somewhat unappealing. Others had off-putting vocals, not matching the brilliancy of some of her previous albums. These two aspects render the album mediocre. I am a fan of some of Björk's works and some experimental projects, but this album did not live up to my standards in either respect.
Favorite Songs: Atopos, Ancestress, Her Mother's House
Least Favorite Songs: Fossora, Allow, Victimhood, Trölla-Gabba
Rating: 5.5/10