Murder on the Madison Express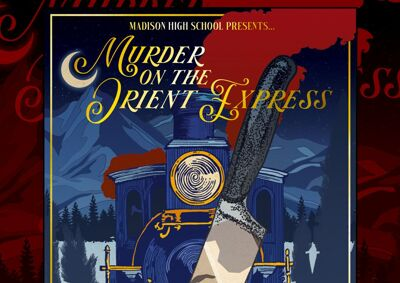 Like every other Madison High School drama performance, Murder on the Orient Express kept the audience on the edges of their seats. The play, a rendition of the classic Agatha Christie novel, was performed from November 18th to the 20th. Adapted for the stage by Ken Ludwig, the story follows a cast of eccentric characters and the detective Hercule Poirot as they travel on the Orient Express. But when Samuel Ratchett, one of the passengers, gets brutally murdered, it's up to detective Poirot to discover who done it. 
Containing two acts and a fifteen minute intermission, the play was engaging from start to finish. From the set design and sound effects, to the acting and costumes, it was remarkable to watch.
The set was both beautiful and creatively made. The train set also looked incredibly realistic, and the transitions made from one compartment to the other were very smooth. Special lights and the use of a snow machine added to the overall atmosphere of the play. 
To tie it all together, the sound design was well done, including train station announcements, dramatic segues, and even some singing. At times, the microphones came in and out, but it never took away from the show.
The cast was composed of eight seniors, eleven underclassmen, and a fourth grader, all of whom did a spectacular job. Each character was played well and the different accents used by the cast added to the believability of their different backgrounds. 
The costumes were era appropriate and did much to enhance the visual experience. Their accuracy, beauty, and complexity greatly added to enjoyment of the show.
The main complaint is the deviation from the original text. There were a few changes to Crisitie's story, including the number of characters, number of stab wounds, and the entire scene at the end of act one. However, the changes made it so those who'd read the book or seen the movie were still kept on their toes, and didn't take away from the integrity of Christie's work.
Murder on the Orient Express was an impressive production, and audiences should be on the lookout for the upcoming spring musical, Sweet Charity.